Stag's Hollow Winery News
Welcome to the Stag's Hollow blog! Stay up to date on everything happening at the winery, including highlights on wine competition awards, events (on and off-site), wine education info, promotions, and articles that feature our wines.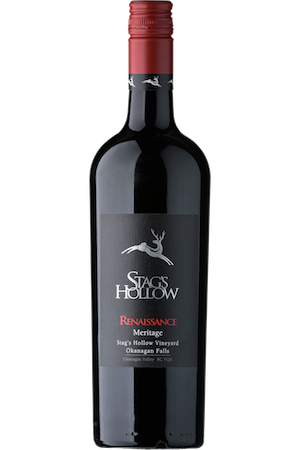 We're excited to have this wine featured on Anthony Gismondi's list of Top 10 BC Reds this week! And rated at 92 points with the follow review...
Stag's Hollow Renaissance Meritage 2016
Okanagan Valley, British Columbia, Canada
Wow, what a treat, and a further confirmation that 2016 is the best vintage we have experienced in the modern BC wine era. Clean, supple, and simply delicious to drink, it has the balance to go the distance, but you can enjoy it now – a rare combination in wine. From dark chocolate to red and black fruits to silky tannins, it's all here but in a tighter package that leans toward complexity rather than pure hedonism. It is already an excellent dinner wine that can take on most major meat dishes or a favourite cheese. The wine finished its ferment in French oak barrels: 40 percent in new 228-litre, thin-staved Bordeaux barrels, and the remainder in 3rd-fill 300-litre hogsheads, ageing in place for 18 months before blending and bottling without fining or filtration. It is 76% merlot, 13% cabernet sauvignon, 11% cabernet franc. Well done.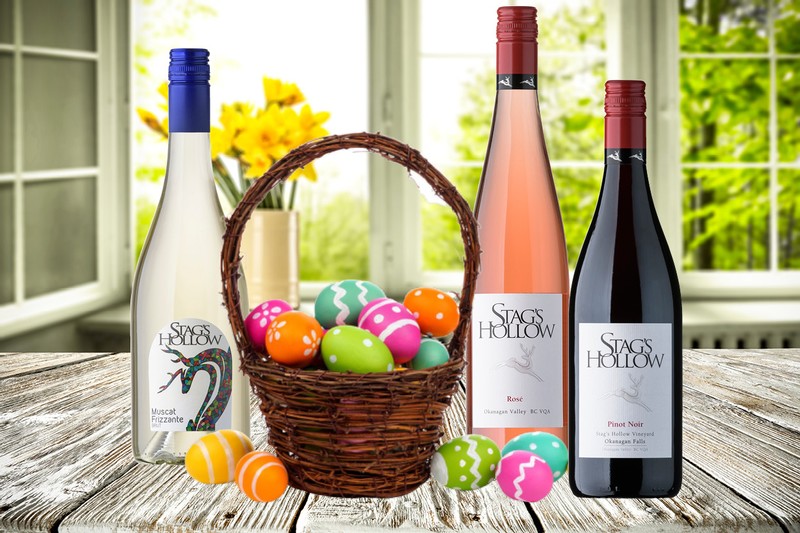 Easter, a time for families to gather together over a meal, enjoy a nice bottle of wine and engage in family conversation. This year, you can still do this... virtually! Pick up an Easter Virtual Sharing Pack for yourself and each of your family members. Then connect via FaceTime, Skype, Zoom, etc. over the Easter weekend and visit while sipping the same wines, and even having dinner together! We're offering FREE SHIPPING in BC & Alberta on these packs.
This 3-pack ($70) features:
2018 Muscat Frizzante... to sip while dinner's cooking (and celebrate everyone's health)
Brand new 2019 Rosé... to pair with appies (and discuss who made the best ones!)
Limited-release 2017 Stag's Hollow Vineyard Pinot Noir... versatile for turkey, ham or vegetarian dishes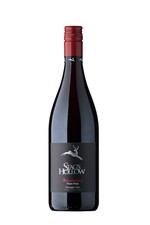 From Anthony Gismondi, gismondionwine.com
The very best lots at Stag's Hollow end up in the Renaissance wines, and I believe this is only the seventh release in 21 years. The selection comes from two sites: Stag's Hollow, and Shuttleworth. It aged in new 300L French oak hogshead barrels and 3rd fill 228-litre Burgundy barrels for 15 months. In all, four clones are used: 115, 667, Pommard, and 777. 2017 is a little less luxurious than in 2016, and it's better for it. Expect a mix of expressive strawberries and cherries, with a dusting of sage and expressive, silky textures, finishing with a twist of brown spices. There is quite a resemblance to Sonoma here. Serve with roast chicken, roast pork with fennel, and any mushroom dishes.

We wish to thank you for your continued support of Stag's Hollow Winery in these uncertain times. As much as we all hope that this is over sooner than later, all reports from Public Health seem to point to the latter. We have implemented strict santitizing protocols at the winery, and with a small core staff and a very large building, we're able to safely practice social distancing in our work environment. We have also closed our tasting room doors until it is safe for all to enjoy again.
Despite all the uncertainty in the world today, it doesn't mean we cannot enjoy all of life's simple pleasures in our own homes. Start experimenting with new recipes or making some of those special meals we haven't found time for lately. Of course, special meals need special wines! Or maybe all meals need a bottle of wine! We don't want anybody's cellars to run dry at this time, so we'd like to extend the following offer: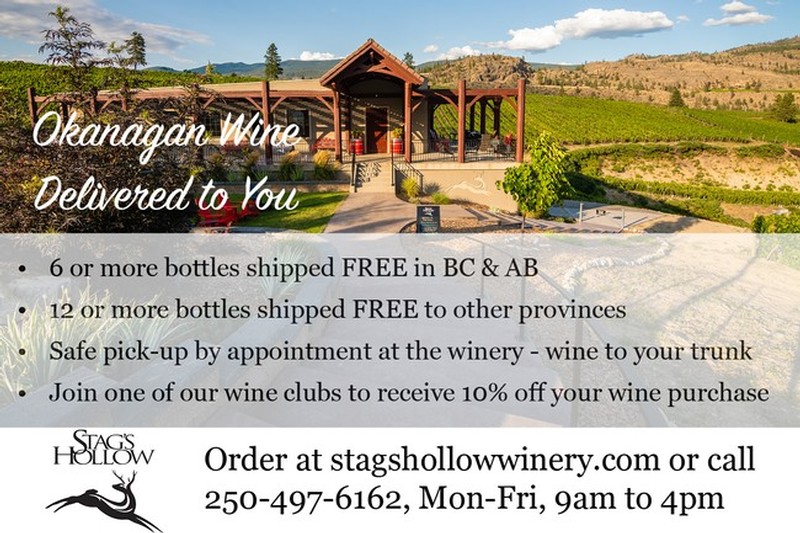 We thank you for your patience. In this new world of social distancing and sanitizing, our old efficient ways have been changed and we are a bit slower at packing a box! In any case, we have the technology and we will get these out to you!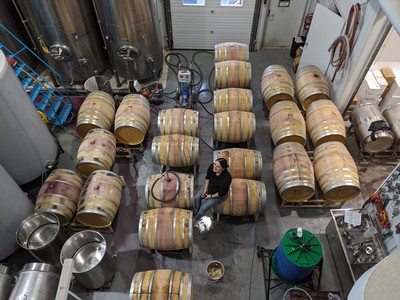 Now that the last of the reds have officially been pressed off, we're able to catch our breath in the cellar and reflect on this year's harvest...

They say that every vintage is different, and each comes with its own set of unique challenges; after this year, I'd have to agree. Last year's long, drawn-out harvest was a lesson in patience - a hard-learned lesson for me - but one that proved invaluable. This year, we didn't have the luxury of patience, but instead we were dealt a lesson in adaptability. Challenging vintages, like the one we've just had, remind us that vintage variation should not be used as an excuse for lesser wines, but rather as a challenge to winemakers to adapt their practices to suit the fruit they get, with the goal of making the best wines possible, irrespective of year. With ideal weather, wine is made in the vineyard, with winemakers having to do relatively little to craft exceptional wines. It's the poorer weather years that separate wineries through their vineyard practices. It is also these years that really allow the winemaking team to show off their skills. Exceptional wines that come out of these years are made all the more satisfying knowing the hard work that has gone into them. This year is one of those years and we couldn't be more excited about what we've been able to create.

The spring and summer leading up to harvest were as close to ideal as you could ask for. Moderate temperatures set us on track for gradual, even ripening across all of our vineyards - Mother Nature had a few tricks up her sleeve for us, though. An uncharacteristically wet and cool September slowed things down, and then a frosty start to October brought on a bit of a mad rush to bring everything into the cellar all at once. Luckily for us, our hard-working and meticulous vineyard team set us up for success early, by reducing crop loads, and staying on top of disease and rot pressure. While much of the valley was battling rot and mildew, we were extremely lucky to be relatively unaffected by it. We had little work to do on the sorting table as the quality of the fruit was surprisingly beautiful! As we aren't used to having the majority of our fruit come in all at once, we had to get a bit creative with tank space. Heads were popped off barrels and picking bins were stolen from the vineyard so that we could use them as make-shift fermenters. I think at one point we had about 35 individual red ferments going (that's a LOT of punch-downs!) Having so many small vessels for fermentation actually allowed us to divide parcels into more batches than usual. This allowed us to experiment with different techniques and play around with variables in a way that will give us many options when it comes time to blend our wines. As usual, we have a few new projects up our sleeves and we were also able to work with a few new-to-us varieties (just to keep things interesting!) I can't wait to share these wines with everyone... there are some really special things happening in the cellar!

For now, though, we are waiting patiently, with our fingers crossed, for some perfect Icewine picking weather!

Cheers,
Keira
IG: @stagshollow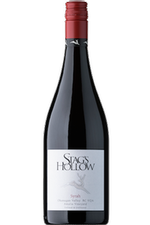 We are thrilled to share that our 2016 Syrah has performed exceptionally well in two recent international events. It scored 94 points and earned a Silver Medal in the Decanter Asia Wine Awards in September and more recently was one of six Okanagan Syrahs chosen to represent British Columbia in the final Judgment of BC. These six wines were tasted blind, alongside four international benchmark Syrahs. The results clearly indicated that BC is more than capable of competing alongside these international wines in the world, with three of these BC wines scoring placing first, second and third. Stag's Hollow Winery was one of these three, placing third!
About the Judgment of BC...

Hosted by the BC Wine Institute, and curated by Vancouver based wine expert DJ Kearney, the final Judgment of BC took place in Penticton October 29th. "This is an experiment to see how BC wines are assessed in a global context. The results make me personally very proud. I think the quality of wines is so high and that was a common theme as we went through flight by flight. Judges were astonished at how high the overall quality was. BC grapegrowers and winemakers have much to be proud of." said DJ Kearney, wine educator, wine writer and judge.

Inspired by the legendary Judgment of Paris in 1976, the inaugural Judgment of BC was hosted in 2015 by the BC Wine Institute in honour of Steven Spurrier's visit to British Columbia. Five years later, the BC wine industry was thrilled to welcome Steven Spurrier back to BC wine country to taste and evaluate world-class wines from the region and participate in this tasting. "Since I was last in British Columbia in 2015, what I'm seeing is the increasing commitment, investment and quality. Seeing the vineyards showed me how extraordinary some of these vineyard sites are. The purpose of terroir is to allow the grape variety to express itself and BC does that well. Whether it's Riesling, Chardonnay, Pinot Gris, Pinot Noir or Cabernet Franc, the vineyards are showing an undeniable expressiveness of grape variety and high quality, and in my view, that puts the area in a very strong league in the international market." said world-renowned Steven Spurrier of Decanter Magazine.

The goal of the Judgment of BC was to honestly assess the current state of grapegrowing and winemaking in BC to provide a clear perspective of the distinct characteristics of British Columbia wine in relation to global standards, and to achieve a focused vision for the continued evolution of the BC Wine Industry. The selection committee chose 24 BC representatives from a selection of 189 wines for 4 varieties... Chardonnay, Riesling, Pinot Noir & Syrah. To have a wine chosen for this tasting was a great honour.

For more information and the complete list of wines, click here.
Congratulations to all the other BC wineries whose wines are included on this list!

2019 Cornucopia Top 20
2016 Renaissance Merlot
2019 British Columbia Lieutentant Governor's Wine Awards
Silver - N/V Royal
Bronze - 2018 Albarino
Bronze - 2018 Syrah Rosé
Bronze - 2016 Shuttleworth Creek Vineyard Pinot Noir
Bronze - 2017 Renaissance Pinot Noir
Bronze - 2016 Renaissance Merlot
2019 Decanter Asia Wine Awards
Silver - 2016 Syrah
Bronze - 2015 Renaissance Merlot
Bronze - 2016 Shuttleworth Creek Vineyard Pinot Noir
2019 Wine Align National Wine Awards of Canada
Gold - 2018 Syrah Rosé
Gold - 2016 Renaissance Merlot
Silver - 2016 Stag's Hollow Vineyard Pinot Noir
Silver - 2015 Tempranillo
Bronze - 2018 Albarino
Bronze - 2017 Tragically Vidal
Bronze - 2018 Blanc de Noirs
Bronze - 2016 Shuttleworth Creek Vineyard Pinot Noir
Bronze - 2017 Dolcetto
Bronze - 2017 Vidal Icewine
Bronze - 2014 Hart
2019 Okanagan Wine Festivals 'Best of Varietal' Competition
Gold - 2018 Syrah Rosé
Silver - 2016 Stag's Hollow Vineyard Pinot Noir

These wines have been getting a lot of attention in the past couple of years, with winemakers all around the world excited to create these interesting wines. It has often left the consumer very confused as to the distinction between a Natural Wine vs Orange Wine vs Organic Wine or asking the question, 'why would they even want to make a wine like this in the first place?' Grab a glass of wine and let me try to explain the differences.
In Canada, Certified Organic Wines are few and far between, in part because of the difficulty of getting the cellar and bottling line certified (must only process organic fruit/wine). The vineyard and winery must be certified through either the provincial or federal certification programs, after proving that the land has been farmed to these organic standards for at least 3 years. This means that no toxic pesticides, herbicides or synthetic fertilizers are used in the vineyard, relying more on mechanical weeding, organic sprays and integrated pest management strategies to create habitats for beneficial insects. Certified organic wines also do not use any GMO products. Far more common are wines "made with organically grown grapes", which require a minimum of 70% of the grapes to be grown organically.
Natural Wine, according to Isabelle Legeron, MW, founder of RAW Wine, is wine from grapes "farmed organically or biodynamically, and made without adding or removing anything in the cellar. No additives or processing aids are used, and intervention in the naturally occurring fermentation process is kept to a minimum. As such, neither fining nor (tight) filtration are used." There are however no regulations or standards regarding natural wine so they can run the gamut from very clean and complex wines to a "bacterial cesspool", as I've overheard some winemakers and wine writers refer to them! Ultimately, clean winemaking is clean winemaking, whether 'natural' or 'conventional'.
Orange Wines, also known as Amber Wines in some parts of the world, are not made from oranges (unless perhaps you are in Florida!). Whereas grapes intended for white wines are pressed immediately and the wine is made from the juice, red wines get their colour and tannin from having the skins and seeds in the fermentation vessel with the juice; same thing with orange wines (skin-contact white wines). Our current release of an orange wine is our 2018 Orange Vidal. This wine gets its colour, medium tannins and savoury character from 3 weeks of skin contact during, and after, fermentation. Orange wines typically have a more savoury character - they are not fruity wines. Enjoy them as you would a light red - served slightly chilled, not cold, preferably with food. They will cellar for up to 5 years.
So, a natural wine is always made from organic grapes, but is not necessarily an orange wine. An orange wine is sometimes a natural wine, but not necessarily (it can be made conventionally). Certified organic wines might be natural, might be orange, but not necessarily. Any questions? 😜

Only 1% of all the wine made in the world is meant for serious ageing, which means 99% is meant to be consumed sooner than later! As a general rule, everyday red wines will last up to 5 years and everyday whites and rosés will last between 2 and 3 years. Screwcaps have changed these guidelines considerably, adding a few more years to the timeline.
In order to determine which red wines are suitable for extended ageing you must look at 4 main traits: Colour, Tannin, Acidity and Alcohol. The colour should be vibrant - if it is already looking dull and brickish at the start, it likely won't last for an extended period. The colour tends to often coincide with the concentration of the fruit flavours, which needs to be high to begin with in order to dissipate with age. Tannins help preserve freshness in wine, so typically (although not always) wines with higher tannins will age better. Acidity is something that wasn't considered in ageability for a long time, however acidity helps preserve the wine as much as tannins do. Wines with higher acidity generally age better. Wines with alcohol levels between 12-13.5% abv are generally considered more ageable than those with 14.5-15%. The exception comes with fortified wines, the best of which can age for a decade or more.
For white wines you must look at 3 main traits: Colour, Acidity and Sweetness. Because white wines darken through oxidation, most age-worthy whites are nearly clear at the beginning. Because white wines don't have tannins to preserve the freshness of the wine, higher acidity is key. Sugar can act as a preservative above certain levels, which explains why Icewines can often age for over 10 years.
If you have questions about any Stag's Hollow Wines that you have hiding in your cellar, please reach out to us; we're happy to provide some guidance.