December 22, 2021 | 12 Wines of Christmas | Stag's Hollow Winery
12 Wines of Christmas...Wine #10 revealed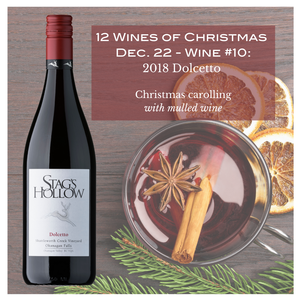 The 10th wine of our 12 Wines of Christmas is our 2018 Dolcetto. Christmas carolling would not be the same without a thermos full of mulled wine. Check out the delicious recipe below - we served this at our Holiday Cheer Weekend and it was a hit.
Dolcetto is a grape that consistently inspires experimentation and excitement, with every new vintage. In 2018, we decided to experiment with delestage (a two-step "rack-andreturn" process in which fermenting red wine juice is separated from the grape solids by racking and then returned to the fermenting vat to re-soak the solids) through the peak of fermentation, which has resulted in a wine with deliciously soft tannins, and vibrantly expressive grape character.
Hand-harvested fruit from our Shuttleworth Creek vineyard was sorted, destemmed, lightly crushed and fermented in 1-ton open-topped fermenters, using selected yeast strains. The ferment was punched-down by hand 2-4 times daily, and then at the peak of fermentation, delestaged daily. The ferments were pressed off into concrete and stainless steel tanks, where they completed alcoholic fermentation, and then malolactic conversion. The wine aged gracefully here for 8 months, when it was finally racked and blended together. The wine was bottled in September 2019, after being stabilized and lightly filtered.
Varietals: 100% Dolcetto
Alcohol: 13.0% alc./vol.
Residual Sugar: 1.9 g/L
Total Acidity: 6.0 g/L
pH: 3.34
Harvest Dates: Oct 5 & 16, 2018
Bottling Date: Sept 2019
Release Date: Aug 2020
Comments
Commenting has been turned off.