Stag's Hollow Winery News
Welcome to the Stag's Hollow blog! Stay up to date on everything happening at the winery, including highlights on wine competition awards, events (on and off-site), wine education info, promotions, and articles that feature our wines.


Festa do Albariño
Let's celebrate this expressive Italian grape and its place in the Okanagan landscape! Join us for Italian antipasti and live music while sipping through various styles and vintages of Dolcetto on the patio overlooking the hollow.
Date: Thursday July 21st, 4-7pm
NOTE: RSVP deadline is July 16th. Please arrive at 4pm or anytime after. Limited to 50 guests.
Tickets include food from Oliver Eats.
Festa do Albariño
Let's party like we're in Spain! Inspired by the annual wine festival of the same name in Cambados, Spain, we're celebrating this vibrant white wine with Spanish tapas, live music, and of course, a grand tasting of our new 2021 Albariño!
Date: Thursday August 4th, 4-7pm
NOTE: RSVP deadline is July 29th. Please arrive at 4pm or anytime after. Limited to 50 guests.
Tickets include food from Oliver Eats.


We are excited to announce that after a year of a lot of hard work from the team, Stag's Hollow Winery and our two vineyards in Okanagan Falls have achieved sustainability certification from Sustainable Winegrowing British Columbia (SWBC)! Sustainability has been something that has always been important from the beginning, but it's nice to now be part of a program to ensure that our efforts are quantifiable.
The SWBC certification recognizes the industry responsibility to minimize its impact on the environment and maximize its contribution to sustainability. This means taking a holistic and systematic management approach to all aspects of the operation, such as: enhancing soil health and carbon capture, promoting biodiversity, protecting waterways from contamination and degradation while using water wisely, minimizing inputs and outputs to create a regenerative, resilient system, and working to enhance employee health and safety and community wellbeing, all to grow a thriving business.
Sustainable winegrowing is the right action for the planet, its people, the environment, the industry, our community, and future generations.

We're continuing to partner with several restaurants this year to provide some prize-winning opportunities for you, who have helped us get through the past year, and to help support the restaurants that carry our wines. For the month of July, we are featuring 10 Acres Farm & Restaurants, with locations in Victoria and Sidney, and the Hooded Merganser at the Penticton Lakeside Resort.
If you'd like to check out their websites, Instagram (@eat10acres & @thehoodedmerganser) or Facebook (@Eat10Acres & @HoodedMerganser, please do so and give them a follow or a like. Thank you!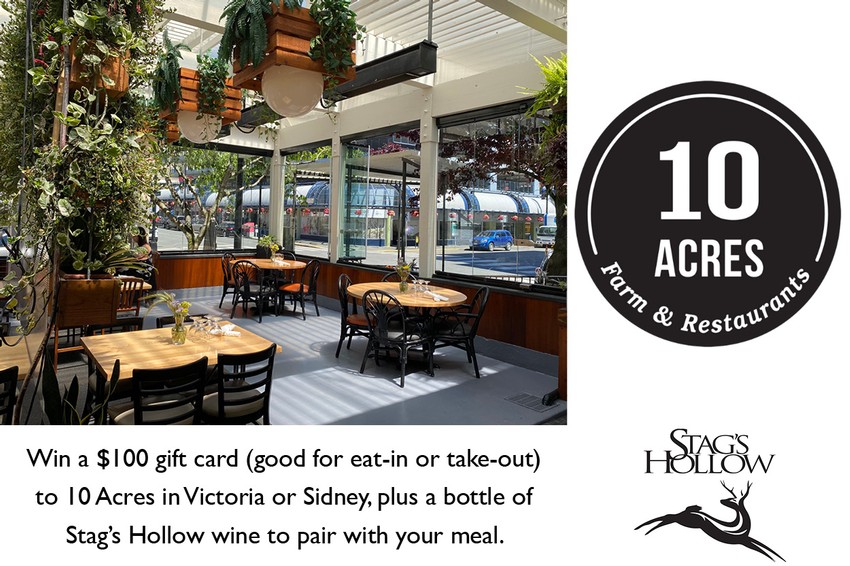 Contest is running from July 1st - 3st, 2021, with the two draws taking place on Tuesday August 3rd. Prizewinners will be notified by Stag's Hollow Winery. All orders of 6 bottles or more placed through stagshollowwinery.com or in our wine shop during that time will be eligible to win - one contest entry for every 6 bottles purchased.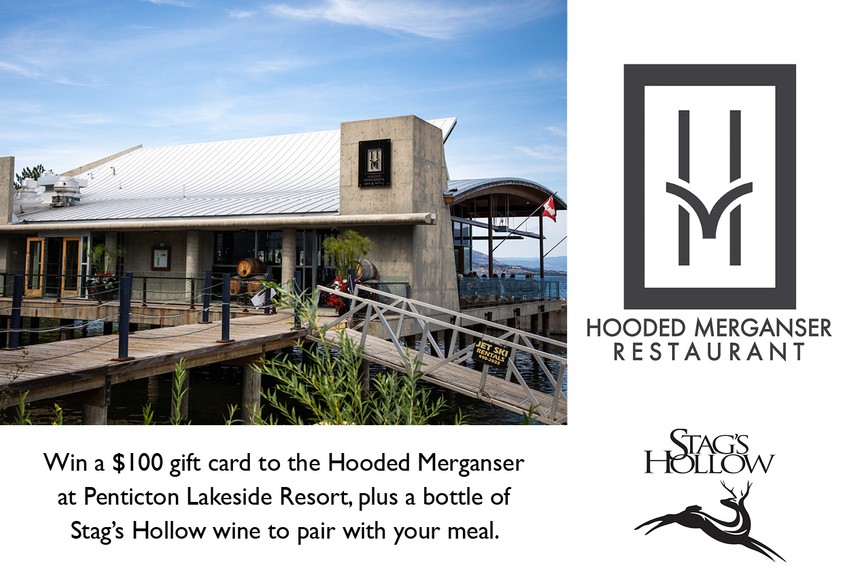 Prize #1 includes $100 gift card for 10 Acres, valid at any of their 3 locations in Victoria or Sidney, along with a bottle of Stag's Hollow wine to pair with the meal. Prize #2 includes $100 gift card for The Hooded Merganser, 21 Lakeshore Dr. W, Penticton, BC, along with a bottle of Stag's Hollow wine to pair with the meal. Gift cards valid for take-out or eat-in dining. Bottle of Stag's Hollow wine to be the prizewinner's choice, based on selection available at the restaurants at the time of prize redemption. No substitutions or cash prize equivalent.

We have been working hard over the past month in order to be able to begin offering tasting experiences once again and we're very excited to let you know that as of Wednesday June 24th we will be open for tastings! Due to physical distancing requirements and new santizing protocols, how tastings will operate this year is different to what you have been used to in previous years.
We have implemented a new online reservations system for our tastings this year, in order to comply with the Public Health Order for occupancy and physical distancing. Walk-ins for tastings will be accepted if space and adequate staffing is available. Tasting experiences will all be conducted on our deck, overlooking the vineyard. A new solar panel roof will be completed shortly that will not only provide shade on the deck, but will also power our wine shop and offices!
Our wine tasting experiences can be booked for up to 6 people. Please choose which flight you would like (White, Mixed or Red) and specify the number of people in your party when booking. Tastings are pre-poured in carafes and placed on your table on the deck, overlooking the vineyard, upon your arrival. The guided tasting experience runs approximately 30 minutes. Last bookings of the day begin at 4:20pm.
The tasting fee of $10 per person is waived on the purchase of 2 bottles per person. Tasting fees are also waived for Wine Club Members and up to 3 guests. Please note that we donate all tastings to SORCO Raptor Rehab, located a few kilometres south of the winery near Vaseux Lake.
Groups are defined as guests that are travelling together. For that reason we kindly request only those who wish to taste and/or purchase wine attend the tasting. Due to the limited occupancy rules, we are unable to host persons under the age of 19.
White Wine Tasting
Join us on our deck, overlooking the vineyard, to be guided through a flight of four pre-poured wines (3 whites, 1 rosé).
Red Wine Tasting
Join us on our deck, overlooking the vineyard, to be guided through a flight of four pre-poured wines (4 reds).
Mixed Wine Tasting
Join us on our deck, overlooking the vineyard, to be guided through a flight of four pre-poured wines (1 white, 1 rosé, 2 reds).
Picnic Area Reservation
Our grassy picnic area can be booked if you would like to bring your own picnic lunch. Our wines are available to enjoy in the picnic area by the bottle. We are not able to conduct tastings within the picnic area though. Bookings are available in 50 minute increments, which allows time for our staff to sanitize the chairs and tables between guests.
Please review our Covid-19 Safety Plan prior to arriving at the winery. Stay healthy, safe, and drink wine!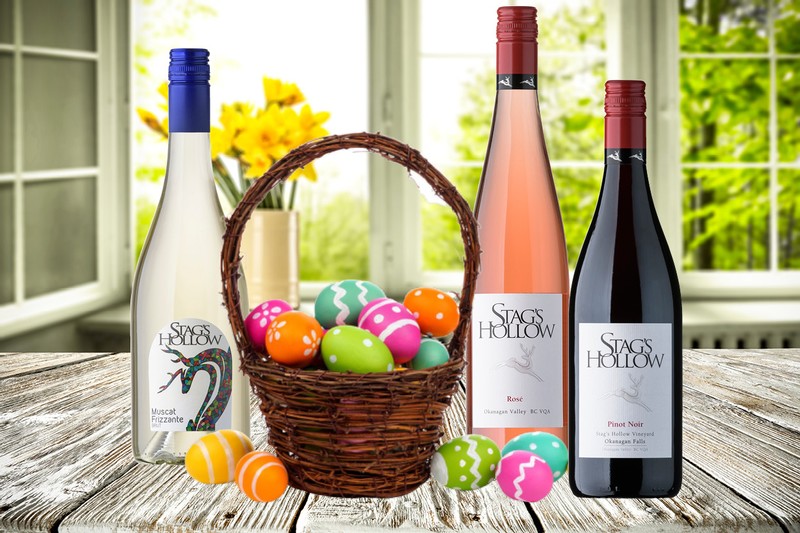 Easter, a time for families to gather together over a meal, enjoy a nice bottle of wine and engage in family conversation. This year, you can still do this... virtually! Pick up an Easter Virtual Sharing Pack for yourself and each of your family members. Then connect via FaceTime, Skype, Zoom, etc. over the Easter weekend and visit while sipping the same wines, and even having dinner together! We're offering FREE SHIPPING in BC & Alberta on these packs.
This 3-pack ($70) features:
2018 Muscat Frizzante... to sip while dinner's cooking (and celebrate everyone's health)
Brand new 2019 Rosé... to pair with appies (and discuss who made the best ones!)
Limited-release 2017 Stag's Hollow Vineyard Pinot Noir... versatile for turkey, ham or vegetarian dishes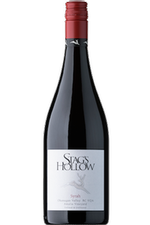 We are thrilled to share that our 2016 Syrah has performed exceptionally well in two recent international events. It scored 94 points and earned a Silver Medal in the Decanter Asia Wine Awards in September and more recently was one of six Okanagan Syrahs chosen to represent British Columbia in the final Judgment of BC. These six wines were tasted blind, alongside four international benchmark Syrahs. The results clearly indicated that BC is more than capable of competing alongside these international wines in the world, with three of these BC wines scoring placing first, second and third. Stag's Hollow Winery was one of these three, placing third!
About the Judgment of BC...

Hosted by the BC Wine Institute, and curated by Vancouver based wine expert DJ Kearney, the final Judgment of BC took place in Penticton October 29th. "This is an experiment to see how BC wines are assessed in a global context. The results make me personally very proud. I think the quality of wines is so high and that was a common theme as we went through flight by flight. Judges were astonished at how high the overall quality was. BC grapegrowers and winemakers have much to be proud of." said DJ Kearney, wine educator, wine writer and judge.

Inspired by the legendary Judgment of Paris in 1976, the inaugural Judgment of BC was hosted in 2015 by the BC Wine Institute in honour of Steven Spurrier's visit to British Columbia. Five years later, the BC wine industry was thrilled to welcome Steven Spurrier back to BC wine country to taste and evaluate world-class wines from the region and participate in this tasting. "Since I was last in British Columbia in 2015, what I'm seeing is the increasing commitment, investment and quality. Seeing the vineyards showed me how extraordinary some of these vineyard sites are. The purpose of terroir is to allow the grape variety to express itself and BC does that well. Whether it's Riesling, Chardonnay, Pinot Gris, Pinot Noir or Cabernet Franc, the vineyards are showing an undeniable expressiveness of grape variety and high quality, and in my view, that puts the area in a very strong league in the international market." said world-renowned Steven Spurrier of Decanter Magazine.

The goal of the Judgment of BC was to honestly assess the current state of grapegrowing and winemaking in BC to provide a clear perspective of the distinct characteristics of British Columbia wine in relation to global standards, and to achieve a focused vision for the continued evolution of the BC Wine Industry. The selection committee chose 24 BC representatives from a selection of 189 wines for 4 varieties... Chardonnay, Riesling, Pinot Noir & Syrah. To have a wine chosen for this tasting was a great honour.

For more information and the complete list of wines, click here.
Congratulations to all the other BC wineries whose wines are included on this list!