December 19, 2021 | 12 Wines of Christmas | Stag's Hollow Winery
12 Wines of Christmas...Wine #7 revealed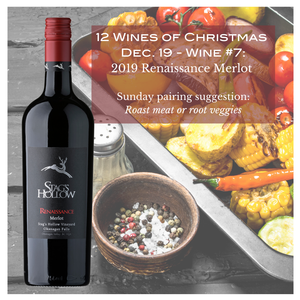 The 7th wine of our 12 Wines of Christmas is our newly-released 2019 Renaissance Merlot. Whether a roast beef, roast lamb or a pan of roasted root veggies, our Renaissance Merlot will pair beautifully. Bon appétit!
Our Estate Merlot block has ideal terroir for Okanagan Merlot: a free-draining gravel soil profile and a southwest facing slope to gather the intense afternoon heat. Having tended these vines for over 25 years, we feel we have learned how to grow exceptional Merlot on this site, even in the most difficult of years. Despite the fact that these older vines are already quite self-limiting, with 2019 being one of these cooler, more challenging vintages, we had to be a bit more rutheless than usual with our cropping levels. More fruit than usual had to be dropped, but the result is an immensely elegant Merlot that is well deserving of cellaring.
All fruit was hand-harvested, bunch-sorted, destemmed and gravity transferred to one 1-ton fermenter. Approximately 70% of the berries were left whole and uncrushed. After a 3 day cold soak, the must was warmed and inoculated with selected yeasts. The cap was punched down by hand 3 times daily, and at the ideal tannin extraction, the must was drained of free run juice and the skins were lightly pressed. The wine continued its fermentation in French oak barriques (50% new & 50% 3rd-fill) through to dryness and then through Malolactic conversion. It has been left to mature undisturbed for 18 months before blending, and is set to be bottled without fining or filtration in August 2021.
Varietals: 85% Merlot, 12% Cabernet Sauvignon, 3% Cabernet Franc
Alcohol: 14.0% alc./vol.
Residual Sugar: 1.2 g/L
Total Acidity: 6.32 g/L
pH: 3.5
Harvest Dates: Oct 17, 2019
Bottling Date: Aug 2021
Release Date: Nov 2021
Comments
Commenting has been turned off.