December 24, 2021 | 12 Wines of Christmas | Stag's Hollow Winery
12 Wines of Christmas...Final Wine (#12) revealed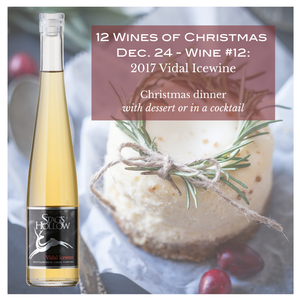 The 12th, and final, wine of our 12 Wines of Christmas is our 2017 Vidal Icewine. What a great way to celebrate Christmas dinner - serve our Vidal Icewine with dessert or turn it into a Holiday cocktail (see suggestions below)!
This was the first icewine we've ever produced here at Stag's Hollow, and it was truly a team effort. Everyone brought their family and friends that were willing to help out in the wee hours of the morning, and we were able to bring the majority of the fruit in before it started to warm up. We have never seen the press so full! The remainder was picked in the New Year, and the two lots were blended together. Not in the least cloying, this wine has a richness of flavour that only comes about from extended hang time, but is balanced by a surprising amount of acidity. It finishes clean, but the lingering finish seems to go on forever.
The grapes were hand harvested on December 23, 2017 & January 3, 2018 at -10°C and -12°C, respectively. Harvesting stopped when the temperature started to rise. They were then whole-cluster pressed into tank, where the juice was allowed to settle before being racked, warmed and inoculated using selected yeasts. The wine followed a long, slow ferment (nearly a month), until it reached a point where we wanted to preserve the remaining sugars. The wine was then chilled to 0°C to stop fermentation, stabilized, filtered and bottled later in the year.
Varietals: 100% Vidal
Alcohol: 12.7% alc./vol.
Residual Sugar: 224 g/L
Total Acidity: 9.7 g/L
pH: 3.2
Harvest Dates: Dec 23, 2017 & Jan 3, 2018
Bottling Date: Aug 2018
Release Date: Sept 2018
Icewine Cocktail Ideas
Iceberg
2 tbsp of Stag's Hollow Vidal Icewine
2 tbsp of vodka
Pour 2 tbsp each icewine and vodka into a champagne flute. Top with sparkling white wine or cranberry ginger ale. Garnish with an orange twist or frozen grape.
Tequila Ice Rise
1oz of tequila
1oz of Stag's Hollow Vidal Icewine
3oz of fresh fruit juice
1 tsp of cranberry juice from concentrate
Iced Apple Jack
1.5oz of Stag's Hollow Vidal Icewine
1oz of apple juice
Splash of Chardonnay
Ice Gimlet
2 ounces (4 tablespoons) gin
½ ounce (1 tablespoon) lime juice
½ ounce ( 1 tablespoon) Stag's Hollow Vidal Icewine
Splash of Soda optional
Add gin, lime juice, and ice wine to a cocktail shaker. Fill with ice and shake until cold. Strain into glass and top with a splash of soda water, if desired. Garnish with a lime wheel and serve
Comments
Commenting has been turned off.