December 18, 2021 | 12 Wines of Christmas | Stag's Hollow Winery
12 Wines of Christmas...Wine #6 revealed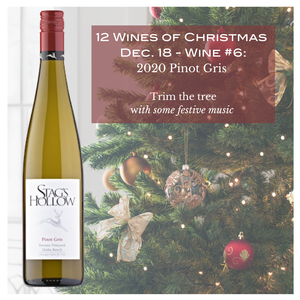 The 6th wine of our 12 Wines of Christmas is our 2020 Pinot Gris. It's time to trim the tree and turn up the holiday music! We've created a playlist on Spotify just for this... CLICK HERE to listen to the Stag's Hollow staff favourites! Cheers!
Although 2020 proved to be a very diferent growing season to 2019, we were so happy with our first vintage of Pinot Gris that we set out to achieve a similar style in 2020. Thankfully, the weather permitted us to hang the 3rd pick a little longer, and really capitalize on the honey and spice notes that developed through the extended ripening. Owing to vintage variation, to achieve the balance we've achieved in the finished wine, we left a little less residual sugar this year, resulting in a slightly drier wine.
Fruit from this block was hand-harvested in 3 separate picks: the 1st for acidity and brightness, the 2nd for balance and complexity, and the 3rd for richness and flavour. Lot #1 (47%) was pressed and cold-settled for 48 hours, before being racked to a stainless steel tank, warmed and inoculated. Lot #2 (29%) was cold-settled for 24 hours, and then racked to stainless steel barrels, warmed and inoculated. Lot #3 (24%) was cold-settled for 24 hours, and then racked into 4 500L French Oak barrels (50% new), warmed and inoculated. After 3 months of regular batonnage, all 3 lots were blended, together stabilized, filtered and bottled.
Varietals: 100% Pinot Gris
Alcohol: 13.5% alc./vol.
Residual Sugar: 11.8 g/L
Total Acidity: 6.2 g/L
pH: 3.2
Harvest Dates: Oct 2020
Bottling Date: Apr 2021
Release Date: June 2021
Comments
Commenting has been turned off.