Stag's Hollow Winery News
Welcome to the Stag's Hollow blog. We will be highlighting articles that feature our wines, awards won, events that are happening at the winery as well as wine education features.

Congratulations to Keira and our winemaking team for taking home 5 medals this year!
Click here to purchase the 2019 Renaissance Merlot. And watch for our 2021 Albariño - coming soon!

Here are the results from the Decanter World Wine Awards.
2019 Renaissance Merlot - 92 points, Silver
2020 Albariño - 90 points, Silver
2019 SHV Pinot Noir - 89 points, Bronze
2019 Syrah - 89 points, Bronze
2019 Tempranillo - 89 points, Bronze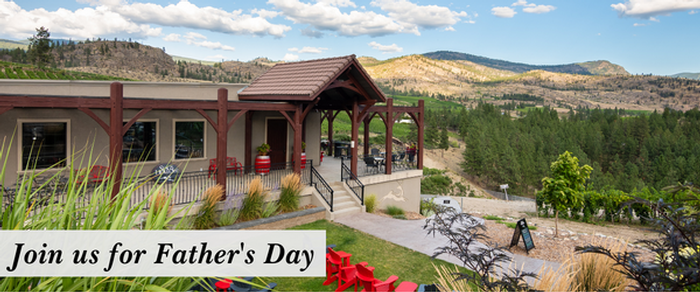 Treat dad to a special tasting this Father's Day!
Sip our new summer releases on the patio overlooking the hollow. We will be releasing new vintages of Albariño and Pinot Gris just in time to celebrate dad. All reservations are FREE Father's Day weekend June 17th, 18th & 19th. Please book your tasting on our website prior to the weekend using promo code DADSARETHEBEST.

Note, We will be accommodating walk-ins based on availability. We will be closing at 2pm on June 19th for a Wine Club member event.

The International Wine & Spirit Competition results came in over the weekend and our 2020 Albariño won Silver!
Here's what the judges had to say: "Perfectly poised aromatic floral aromas, apple blossom, peach and apricot stone fruit palate balanced with rich full savoury, saline body. Nice long finish."
This wine is Sold Out at our Wine Shop, but watch for our 2021 Albariño to release in June! See below for wines that finished Bronze.

Stag's Hollow Winery
Shuttleworth Creek Vineyard Albariño 2020
90 points, SILVER

Stag's Hollow Winery
Cachet Limited Edition No. 5 2018
BRONZE

Stag's Hollow Winery
Amalia Vineyard Syrah 2019
BRONZE

Stag's Hollow Winery
Renaissance Merlot 2019
BRONZE

Stag's Hollow Winery
Stag's Hollow Vineyard Pinot Noir 2019
BRONZE

Stag's Hollow Winery
Tempranillo 2018
BRONZE

Visit us for the chance to win big this summer!
How to Enter:
✔Snap a photo next to our supersized bottle on the patio
✔Share it using the hashtag #SUPERSIZEDSUMMER
✔Follow both wineries on Facebook OR Instagram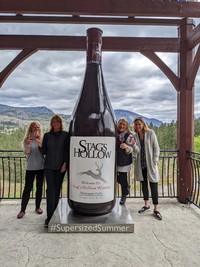 Visit the supersized bottle at both wineries to double your chance of winning!
Winner chosen October 1, 2022. Contest runs until Sept 30, 2022. See here for Contest Rules & Regs.
Good luck!

New OFSL event! As part of the Okanagan Falls | Skaha Lake Winery Association Spring Cheer Weekend (May 7-8), Stag's Hollow Winery will be offering free tastings by reservation from 11am to 5pm each day over the Mother's Day weekend, accommodating walk-ins if there is availability.
On Sunday, sip our new spring releases on the patio as eight local artists paint en plein air overlooking the hollow. Featured artists: Lynn O'Brien, Cindy Smith, Janice Cornett-Ching, Ron Gladish, Vicki Rogers, Sharon Snow, Cindy Smith, Carol Avedon Savage and more.
For more information on what our neighbouring wineries are also offering that weekend, please visit www.theheartofwinecountry.ca.

Visit us at the Wine Shop or online to shop our new Spring Releases just in time for Easter weekend sipping!

FREE TASTINGS
To celebrate, all tastings on our patio overlooking the hollow will be FREE over April for groups up to 4. Reservations recommended. Use promo code BCWINEMONTH22 when you book your spot.

SHIPPING SPECIALS
Orders of 12 bottles or more receive FREE shipping in BC and Alberta. Use promo code BCWINEMONTH at checkout.
All other orders of 12 bottles or more across Canada will receive $25 OFF shipping fees. Use promo code BCWINEMONTH-EAST at checkout.

We are excited to announce that after a year of a lot of hard work from the team, Stag's Hollow Winery and our two vineyards in Okanagan Falls have achieved sustainability certification from Sustainable Winegrowing British Columbia (SWBC)! Sustainability has been something that has always been important from the beginning, but it's nice to now be part of a program to ensure that our efforts are quantifiable.
The SWBC certification recognizes the industry responsibility to minimize its impact on the environment and maximize its contribution to sustainability. This means taking a holistic and systematic management approach to all aspects of the operation, such as: enhancing soil health and carbon capture, promoting biodiversity, protecting waterways from contamination and degradation while using water wisely, minimizing inputs and outputs to create a regenerative, resilient system, and working to enhance employee health and safety and community wellbeing, all to grow a thriving business.
Sustainable winegrowing is the right action for the planet, its people, the environment, the industry, our community, and future generations.

Given the epic heat wave we experienced in the summer of 2021, we were prepared for an extra-early start to harvest. As a surprise to everyone, though, the first of our fruit wasn't harvested until September 10th; one of our later start dates in recent years. Gotta love that hurry-up and wait! We think this is due to the fact that the majority of our vines are very well-established, and therefore less inclined to be affected by extreme temperatures. We toasted to the new harvest and blessed our first bin of estate-grown Muscat Ottonel with a sprinkling of last year's Muscat Frizzante.
Despite the leisurely start, the remainder of the harvest season flew by in a blur, and we were finished nearly a whole month earlier than usual. A much more condensed (and intense!) harvest than we're used to. Thanks to our incredibly hard-working cellar crew, their long hours of cleaning, sorting, pressing, stomping, more cleaning, punching-down, pumping-over, forklifting, racking, tasting, inoculating, evaluating, and—oh yeah!—even more cleaning, we've been able to produce some of the most delicious and exciting wines to date. Our vineyard team's hard work throughout the season really paid off, as despite there being less fruit than usual, the quality across the board was exceptional. It makes our job in the cellar a lot easier when the fruit looks that good. It was (and always is) a labour of love, and we are so excited for our wine club family to be the first to try the newest releases from this exceptional vintage.
Keira LeFranc, Winemaker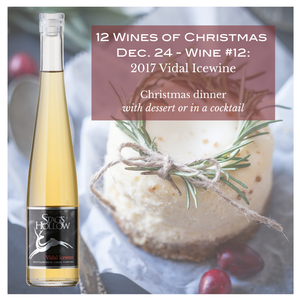 The 12th, and final, wine of our 12 Wines of Christmas is our 2017 Vidal Icewine. What a great way to celebrate Christmas dinner - serve our Vidal Icewine with dessert or turn it into a Holiday cocktail (see suggestions below)!
This was the first icewine we've ever produced here at Stag's Hollow, and it was truly a team effort. Everyone brought their family and friends that were willing to help out in the wee hours of the morning, and we were able to bring the majority of the fruit in before it started to warm up. We have never seen the press so full! The remainder was picked in the New Year, and the two lots were blended together. Not in the least cloying, this wine has a richness of flavour that only comes about from extended hang time, but is balanced by a surprising amount of acidity. It finishes clean, but the lingering finish seems to go on forever.
The grapes were hand harvested on December 23, 2017 & January 3, 2018 at -10°C and -12°C, respectively. Harvesting stopped when the temperature started to rise. They were then whole-cluster pressed into tank, where the juice was allowed to settle before being racked, warmed and inoculated using selected yeasts. The wine followed a long, slow ferment (nearly a month), until it reached a point where we wanted to preserve the remaining sugars. The wine was then chilled to 0°C to stop fermentation, stabilized, filtered and bottled later in the year.
Varietals: 100% Vidal
Alcohol: 12.7% alc./vol.
Residual Sugar: 224 g/L
Total Acidity: 9.7 g/L
pH: 3.2
Harvest Dates: Dec 23, 2017 & Jan 3, 2018
Bottling Date: Aug 2018
Release Date: Sept 2018
Icewine Cocktail Ideas
Iceberg
2 tbsp of Stag's Hollow Vidal Icewine
2 tbsp of vodka
Pour 2 tbsp each icewine and vodka into a champagne flute. Top with sparkling white wine or cranberry ginger ale. Garnish with an orange twist or frozen grape.
Tequila Ice Rise
1oz of tequila
1oz of Stag's Hollow Vidal Icewine
3oz of fresh fruit juice
1 tsp of cranberry juice from concentrate
Iced Apple Jack
1.5oz of Stag's Hollow Vidal Icewine
1oz of apple juice
Splash of Chardonnay
Ice Gimlet
2 ounces (4 tablespoons) gin
½ ounce (1 tablespoon) lime juice
½ ounce ( 1 tablespoon) Stag's Hollow Vidal Icewine
Splash of Soda optional
Add gin, lime juice, and ice wine to a cocktail shaker. Fill with ice and shake until cold. Strain into glass and top with a splash of soda water, if desired. Garnish with a lime wheel and serve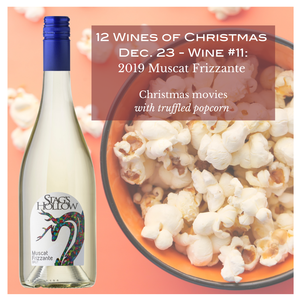 The 11th wine of our 12 Wines of Christmas is our 2019 Muscat Frizzante. Whether it's 'Christmas Vacation' or 'Home Alone', pair your favourite Christmas movie with truffled popcorn - see Julie's recipe below.
A fresh and vibrant wine with bright, natural acidity, and a fun spritz that's fitting for any occasion (including breakfast). Usually the first to be harvested, and the first to be bottled each year, our Muscat Frizzante is always an exciting glimpse at the quality that the new vintage promises.
Each lot was hand-harvested, sorted, destemmed and pressed. The juice was transferred gently into individual stainless steel tanks, where it was cold settled for 72 hours, and then racked, warmed and inoculated with selected yeast strains. All ferments were kept cool, in order to maximize aromatic expression, and were racked and chilled upon completion. All pieces were then blended, and the final wine was stabilized, filtered and bottled with in-line carbonation.
Varietals: 49.7% Muscat Ottonel, 45.3% Orange Muscat, 5% Riesling
Alcohol: 10.0% alc./vol.
Residual Sugar: 9.77 g/L
Total Acidity: 6.28 g/L
pH: 3.2
Harvest Dates: Sept 6 & 20, 2019
Bottling Date: Jan 2020
Release Date: May 2020