Our Vineyards
We use a more unique trellising system in both of our vineyards - the Geneva Double Curtain, often abbreviated to GDC. With this system, the canopy is divided into two pendent curtains and trained downwards from high canes. The foliage is trained downwards from these canes, forming the so-called double curtains. This training system was one of the first examples of a divided canopy developed in the New World and, by reducing shade, it increases both yield and grape quality.
We farm our vineyards sustainably, which refers to conservation, pest management, responsible water usage and efficient energy use. In order to maintain good biodiversity and soil health in the vineyard, we do not use chemical fungicides to control powdery mildew and rot - we use only organic products. All canopy management is performed by hand, which reduces energy consumption as well as allowing us far more precision. We grow diverse and natural vegetation buffer zones in order to provide breeding grounds for beneficial insects, to control unwanted populations of pests.
---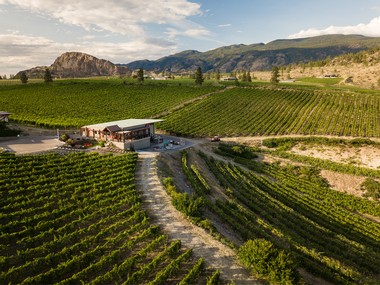 STAG'S HOLLOW ESTATE VINEYARD
The Stag's Hollow Estate Vineyard has a very unique and interesting geological history. Kettles holes are glaciofluvial landforms occurring as a result of blocks of ice calving from the front of a receding glacier and becoming partially to wholly buried by glacial outwash. The Hollow remained after the ice age retreated. Stony glacioluvial soils (otherwise known as gravel) left behind after this retreat, are ideal for growing grapes and creating wines with intensity. The Merlot and Pinot Noir blocks, now exceeding 30 years of age, are on the southwest facing slopes of the Hollow. These two blocks pick up significant solar radiation that allows for consistent ripening even in difficult vintages. Without question, this phenomena has created one of the most distinctive landscapes in the Okanagan Valley.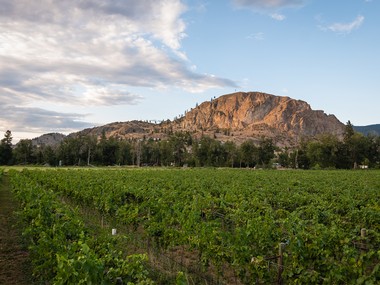 SHUTTLEWORTH CREEK VINEYARD
This land, a former hay field, was purchased in 2011, recognizing that Pinot Noir was likely to be an excellent variety for its terroir. Located just 2 kms north of Stag's Hollow's home site, the heat units, soil geology and air drainage were expected to deliver the quality that Okanagan Falls wineries have become known for, particularly for Pinot Noir. Stepping out of the box, two well known Spanish varieties were planted - Albariño and Tempranillo, and two not so well known Italian varieties - Dolcetto and Teroldego, both up and coming in the Pacific Northwest. In each case the varieties were selected as it was felt they would be very well suited to the site's micro climate. We have been impressed with the quality of the fruit that has been grown so far on this site.