Our Team
We're very proud of our team here at Stag's Hollow Winery. From the vineyard to the cellar, everybody is dedicated to producing exceptional wines. From the office to the tasting room, and to our external sales team, we try to share the passion we have for what we produce and provide the best possible experiences to our customers.
Together Larry Gerelus and Linda Pruegger started with a 10 acre vineyard in 1992 and established Stag's Hollow Winery in 1995. They continue to be hands on in every aspect, from the vineyard, to the winery, to the customer.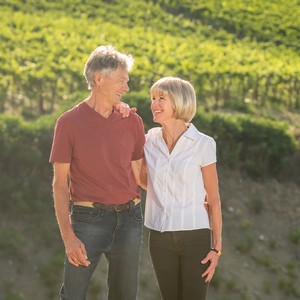 ---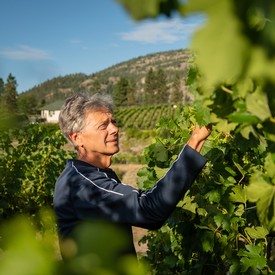 Larry Gerelus Founder / Manager
In 1991 Larry left the Oil Industry and spent the summer researching prime grape growing areas in the Okanagan. This research led him to the Okanagan Falls area, which was described by one well-known viticulturist at the time, as the "grape growing centre of the universe" for the valley. In 1992 the existing 10-acre vineyard was purchased. Later, in 1995 after its first crush, construction of Stag's Hollow Winery began. Over the past 25 years, Larry has worn the hats of Winemaker, viticulturalist, marketer, builder and fixer of almost anything that needed to be fixed! Today Larry concentrates his efforts in the vineyard and outside markets. His philosophy has always been if you grow quality in the vineyard, making great wine will follow. He strives for balance, sustainability and a holistic approach to growing grapes.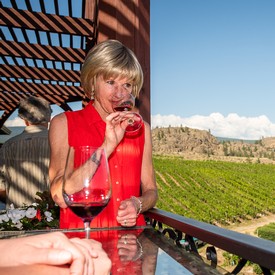 Linda Pruegger Founder
Linda moved from a role of selling and transporting crude oil to producing and selling wine. Her dream of living in the foothills west of Calgary took her a little further west to the foothills of the Okanagan Valley. Since 1995, like Larry, Linda has been involved in every aspect of the winery and vineyard, from pruning and suckering, to crawling inside tanks. Today you are more likely to find her in the wine shop or the office. And always by her side are our two winery poodles - Pinot & Sauly.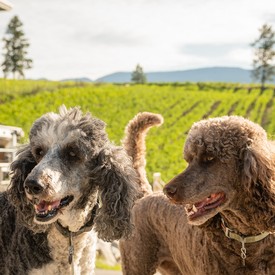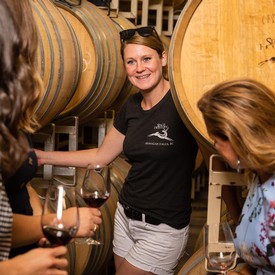 Keira LeFrancWinemaker
Keira grew up in the Okanagan, and actually got her start in the wine industry in our tasting room as her summer job in 2012. Showing a keen interest in the cellar side of things, after completing a science degree, she jumped at the opportunity to join our vintage team on the crush pad in 2013, which really solidified her passion for the industry. Following that first harvest, Keira spent 2 years training and working as a Sommelier in Australia, where she completed her WSET level 3 and CMS Certified Sommelier courses. Missing getting her hands dirty in the cellar, she returned to the Okanagan to join our vintage crew again in 2015, before returning to the Southern Hemisphere to complete a Postgraduate Diploma of Wine Science in New Zealand, and an overseas harvest. She made her final move back to the Okanagan shortly thereafter, and joined our team permanently. Keira took over as Winemaker at Stag's Hollow in July 2018.
---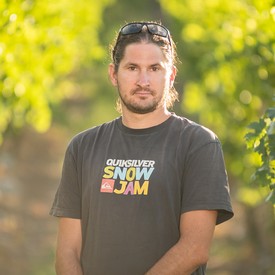 Vilem BlazekVineyard Manager
Vilem came to Stag's Hollow from the Czech Republic. On a one-year visit to Canada, Vilem fell in love with the Okanagan, decided to stay and is currently working on his permanent residency. Vilem looks after the vineyards at both locations - Stag's Hollow and Shuttleworth Creek. You will find him mainly on the tractor in the field, with our seasonal vineyard team or on the crush pad during harvest!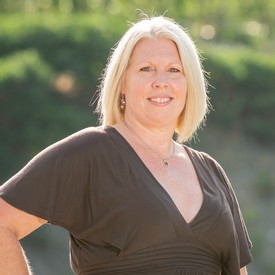 Erin KorpistoSales & Marketing Manager
Erin is an Okanagan girl who decided to move back to the valley and pursue her passion for wine in 2009, after spending several years working in architectural design, and travelling overseas. Erin started in the cellar for a few years, before moving into the Sales and Marketing side of the industry. She shares her extensive knowledge and passion for the wines of BC by teaching wine studies at Okanagan College, and through her work here at Stag's Hollow Winery, along with being a wine blogger and champion of BC wines nationally and internationally. She is nearing completion of her WSET Diploma studies with WSET School London, England.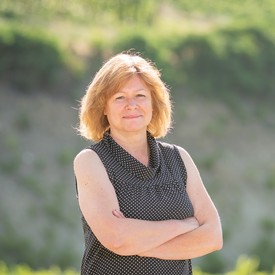 JenniferAdministrative Assistant
Jennifer spends most of her time at the computer helping Linda keep the business and accounting side of the winery running smoothly. Once in a while you'll see her appear briefly in the tasting room to help out with our guests when things get very busy, or even on the bottling line enjoying the winery camaraderie! She is also the chief organizer/ logistics queen behind all the wine club packing.
---