August 16, 2022 | Stag's Hollow Winery
Harvest Dinner - Join us!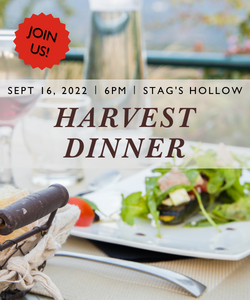 Celebrate harvest with us at our annual long-table dinner overlooking the scenic hollow, catered by Chef Brock Bowes and his amazing culinary team at Provisions Kitchen.
Enjoy an intimate multi-course dining experience featuring locally sourced, seasonal ingredients paired with a selection of award-winning Stag's Hollow wines, presented by our winemaker Keira LeFranc.

TICKETS / INFO HERE
Comments
Commenting has been turned off.