Harvest Dinner 2022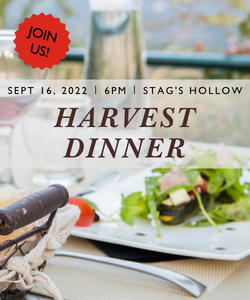 Celebrate harvest with us at our annual long-table dinner overlooking the scenic hollow, catered by Chef Brock Bowes and his amazing culinary team at Provisions Kitchen. Enjoy an intimate multi-course dining experience featuring locally sourced, seasonal ingredients paired with a selection of award-winning Stag's Hollow wines, presented by our winemaker Keira LeFranc.
Date: Friday Sept 16th, 6pm
NOTE: Gratuity is included in the ticket price. Please do not arrive before 6pm. Limited to 36 guests. We will be arranging everyone together at one long table on the side patio overlooking the hollow. Menu to follow closer to the event. Additional Wine Club discounts do not apply. Sorry, no vegetarian options or substitutions.
CHEF BROCK BOWES
After graduating from the Vancouver Island University Culinary Arts program, Bowes worked under the highly regarded Chef Bernard Casavant at Fairmont Chateau Whistler and then at Chef Bernard's own Café before taking on key positions at Victoria's Hotel Grand Pacific, Victoria's Marriott Inner Harbour, and Burrowing Owl Winery in the Okanagan to name a few. In 2015, Chef Bowes won Chopped Canada with a killer lobster dish taking home $10,000. Chef Bowes also represented RauDZ Creative Concepts and the Okanagan Valley in the 2016 Canadian Culinary Championships Gold Medal Plates in Victoria, BC with an amazing dish of sous vide octopus paired with wine from West Kelowna's The Hatch winery.
CHEF COURTNEY KOGA
Courtney Koga graduated from the Business Administration Diploma program, specializing in Hospitality & Tourism, in January 2011. Koga is the owner and operator of CrAsian Food Truck, BoxcAr Kitchen and Provisions. Eight years ago, Courtney Koga and her sister Meiko started CrAsian Food Truck. Today, they continue running a successful food truck business in addition to two brick and mortar kitchens in tasting rooms of two popular Kelowna breweries: Kettle River Brewing and BNA Brewing. Recently Koga was nominated for two Kelowna Chamber of Commerce Business Excellence Awards for Young Entrepreneur and Social Leadership.