October 17, 2022 | Stag's Hollow Winery
The Heart of Wine Country™ Holiday Cheer Open House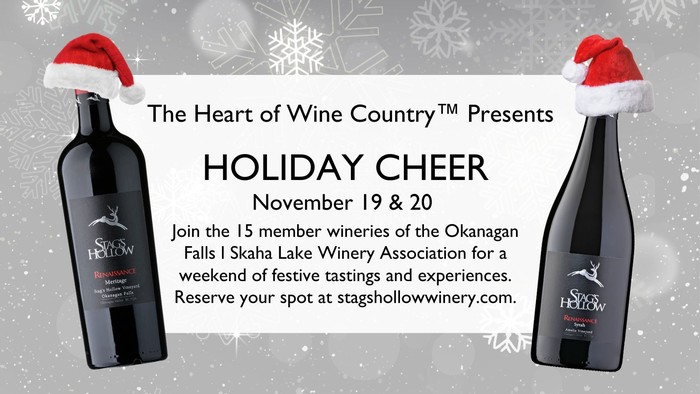 Shop local and sustainable this holiday season! As part of the Okanagan Falls | Skaha Lake Winery Association Holiday Cheer Weekend (November 19-20), Stag's Hollow Winery will be offering festive tastings by reservation from 11am to 4pm each day. Plus, get a jump start on some of your holiday shopping at our mini-market featuring local artisans: Steph Perry Fine Art & Illustration, Schnell Design promo gifts and custom crafts, RoshniWellnesss handmade natural candles, and Sea Wolf & Sage knitwear and jewellery.
Tastings are free all weekend. Walk-ins welcome. Reservations recommended. Book your tasting.
For more information on what our neighbouring wineries are also offering that weekend, please visit www.theheartofwinecountry.ca.

Comments
Commenting has been turned off.