Stag's Hollow Winery News
Welcome to the Stag's Hollow blog. We will be highlighting articles that feature our wines, awards won, events that are happening at the winery as well as wine education features.

We have been working hard over the past month in order to be able to begin offering tasting experiences once again and we're very excited to let you know that as of Wednesday June 24th we will be open for tastings! Due to physical distancing requirements and new santizing protocols, how tastings will operate this year is different to what you have been used to in previous years.
We have implemented a new online reservations system for our tastings this year, in order to comply with the Public Health Order for occupancy and physical distancing. Walk-ins for tastings will be accepted if space and adequate staffing is available. Tasting experiences will all be conducted on our deck, overlooking the vineyard. A new solar panel roof will be completed shortly that will not only provide shade on the deck, but will also power our wine shop and offices!
Our wine tasting experiences can be booked for up to 6 people. Please choose which flight you would like (White, Mixed or Red) and specify the number of people in your party when booking. Tastings are pre-poured in carafes and placed on your table on the deck, overlooking the vineyard, upon your arrival. The guided tasting experience runs approximately 30 minutes. Last bookings of the day begin at 4:20pm.
The tasting fee of $10 per person is waived on the purchase of 2 bottles per person. Tasting fees are also waived for Wine Club Members and up to 3 guests. Please note that we donate all tastings to SORCO Raptor Rehab, located a few kilometres south of the winery near Vaseux Lake.
Groups are defined as guests that are travelling together. For that reason we kindly request only those who wish to taste and/or purchase wine attend the tasting. Due to the limited occupancy rules, we are unable to host persons under the age of 19.
White Wine Tasting
Join us on our deck, overlooking the vineyard, to be guided through a flight of four pre-poured wines (3 whites, 1 rosé).
Red Wine Tasting
Join us on our deck, overlooking the vineyard, to be guided through a flight of four pre-poured wines (4 reds).
Mixed Wine Tasting
Join us on our deck, overlooking the vineyard, to be guided through a flight of four pre-poured wines (1 white, 1 rosé, 2 reds).
Picnic Area Reservation
Our grassy picnic area can be booked if you would like to bring your own picnic lunch. Our wines are available to enjoy in the picnic area by the bottle. We are not able to conduct tastings within the picnic area though. Bookings are available in 50 minute increments, which allows time for our staff to sanitize the chairs and tables between guests.
Please review our Covid-19 Safety Plan prior to arriving at the winery. Stay healthy, safe, and drink wine!

We hope you are all well and are holding up through these times of quarantine, self-isolation and social distancing - it is certainly not easy. In normal times, these wines would have been released this week in our tasting room. As our tasting room is closed and you cannot drop by to discover these new wines, we are focussing on keeping you updated through online channels. Our new 2019 Sauvignon Blanc, just released today, joins our other Spring wines: 2019 Rosé and 2018 Muscat Frizzante. All three are fresh, vibrant and guaranteed to raise your spirits during this quieter time! We are also continuing to offer free shipping on orders of 6 bottles or more within BC and Alberta.
Want to try something new from your living room sofa or patio deck? Anybody who purchases one or all of these three wines between now and the end of April will be able to participate in an interactive virtual video chat with our winemaker, Keira, and some of the team here at Stag's Hollow. Join a group of fellow wine enthusiasts (or bored isolated folks) for a fun and informative social chat. This virtual chat will take place the week of May 4th, with more details to follow.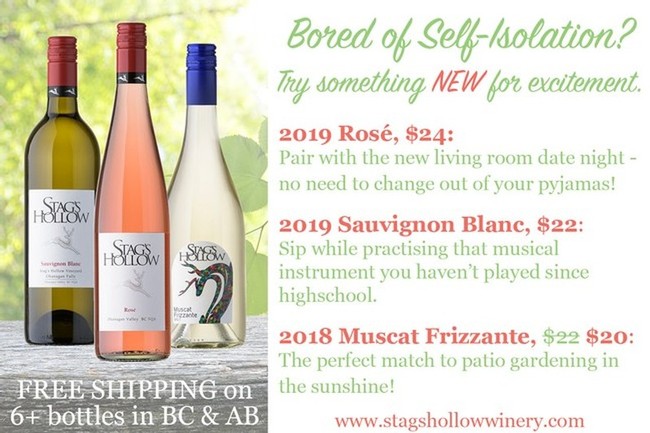 We wish to thank you for your continued support of Stag's Hollow Winery in these uncertain times. As much as we all hope that this is over sooner than later, all reports from Public Health seem to point to the latter. We have implemented strict santitizing protocols at the winery, and with a small core staff and a very large building, we're able to safely practice social distancing in our work environment. We have also closed our tasting room doors until it is safe for all to enjoy again.
Despite all the uncertainty in the world today, it doesn't mean we cannot enjoy all of life's simple pleasures in our own homes. Start experimenting with new recipes or making some of those special meals we haven't found time for lately. Of course, special meals need special wines! Or maybe all meals need a bottle of wine! We don't want anybody's cellars to run dry at this time, so we'd like to extend the following offer: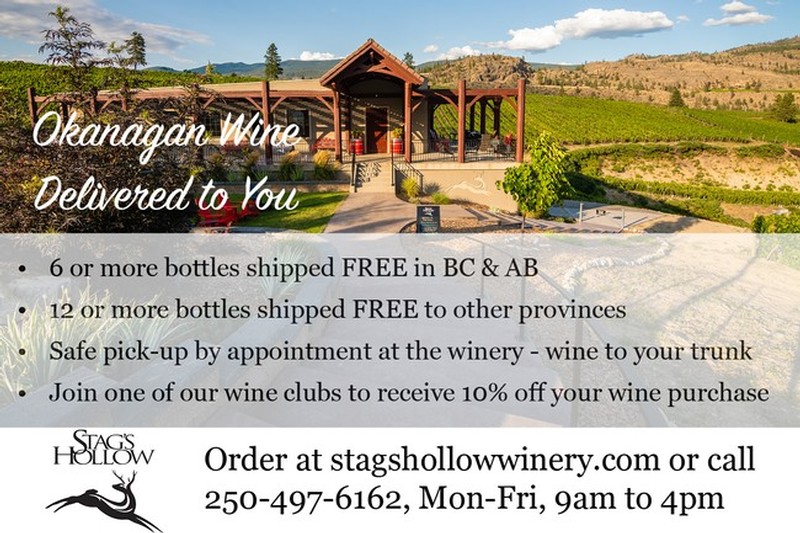 We thank you for your patience. In this new world of social distancing and sanitizing, our old efficient ways have been changed and we are a bit slower at packing a box! In any case, we have the technology and we will get these out to you!

These wines have been getting a lot of attention in the past couple of years, with winemakers all around the world excited to create these interesting wines. It has often left the consumer very confused as to the distinction between a Natural Wine vs Orange Wine vs Organic Wine or asking the question, 'why would they even want to make a wine like this in the first place?' Grab a glass of wine and let me try to explain the differences.
In Canada, Certified Organic Wines are few and far between, in part because of the difficulty of getting the cellar and bottling line certified (must only process organic fruit/wine). The vineyard and winery must be certified through either the provincial or federal certification programs, after proving that the land has been farmed to these organic standards for at least 3 years. This means that no toxic pesticides, herbicides or synthetic fertilizers are used in the vineyard, relying more on mechanical weeding, organic sprays and integrated pest management strategies to create habitats for beneficial insects. Certified organic wines also do not use any GMO products. Far more common are wines "made with organically grown grapes", which require a minimum of 70% of the grapes to be grown organically.
Natural Wine, according to Isabelle Legeron, MW, founder of RAW Wine, is wine from grapes "farmed organically or biodynamically, and made without adding or removing anything in the cellar. No additives or processing aids are used, and intervention in the naturally occurring fermentation process is kept to a minimum. As such, neither fining nor (tight) filtration are used." There are however no regulations or standards regarding natural wine so they can run the gamut from very clean and complex wines to a "bacterial cesspool", as I've overheard some winemakers and wine writers refer to them! Ultimately, clean winemaking is clean winemaking, whether 'natural' or 'conventional'.
Orange Wines, also known as Amber Wines in some parts of the world, are not made from oranges (unless perhaps you are in Florida!). Whereas grapes intended for white wines are pressed immediately and the wine is made from the juice, red wines get their colour and tannin from having the skins and seeds in the fermentation vessel with the juice; same thing with orange wines (skin-contact white wines). Our current release of an orange wine is our 2018 Orange Vidal. This wine gets its colour, medium tannins and savoury character from 3 weeks of skin contact during, and after, fermentation. Orange wines typically have a more savoury character - they are not fruity wines. Enjoy them as you would a light red - served slightly chilled, not cold, preferably with food. They will cellar for up to 5 years.
So, a natural wine is always made from organic grapes, but is not necessarily an orange wine. An orange wine is sometimes a natural wine, but not necessarily (it can be made conventionally). Certified organic wines might be natural, might be orange, but not necessarily. Any questions? 😜

Only 1% of all the wine made in the world is meant for serious ageing, which means 99% is meant to be consumed sooner than later! As a general rule, everyday red wines will last up to 5 years and everyday whites and rosés will last between 2 and 3 years. Screwcaps have changed these guidelines considerably, adding a few more years to the timeline.
In order to determine which red wines are suitable for extended ageing you must look at 4 main traits: Colour, Tannin, Acidity and Alcohol. The colour should be vibrant - if it is already looking dull and brickish at the start, it likely won't last for an extended period. The colour tends to often coincide with the concentration of the fruit flavours, which needs to be high to begin with in order to dissipate with age. Tannins help preserve freshness in wine, so typically (although not always) wines with higher tannins will age better. Acidity is something that wasn't considered in ageability for a long time, however acidity helps preserve the wine as much as tannins do. Wines with higher acidity generally age better. Wines with alcohol levels between 12-13.5% abv are generally considered more ageable than those with 14.5-15%. The exception comes with fortified wines, the best of which can age for a decade or more.
For white wines you must look at 3 main traits: Colour, Acidity and Sweetness. Because white wines darken through oxidation, most age-worthy whites are nearly clear at the beginning. Because white wines don't have tannins to preserve the freshness of the wine, higher acidity is key. Sugar can act as a preservative above certain levels, which explains why Icewines can often age for over 10 years.
If you have questions about any Stag's Hollow Wines that you have hiding in your cellar, please reach out to us; we're happy to provide some guidance.