Stag's Hollow Winery News
Welcome to the Stag's Hollow blog! Stay up to date on everything happening at the winery, including highlights on wine competition awards, events (on and off-site), wine education info, promotions, and articles that feature our wines.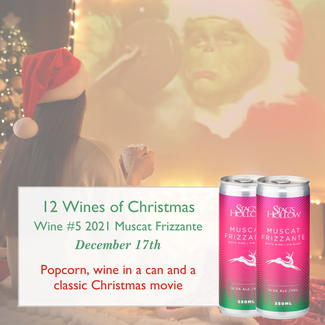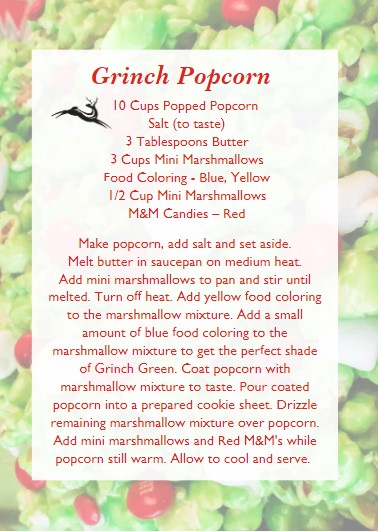 OPEN WINE #5
Saturday is movie night! Our 2021 Sparkling Muscat Frizzante will keep your spirits up while you marathon through all the holiday classics. And you can't watch movies without popcorn! We've included a recipe for our colourful Grinch Popcorn. Big wine lovers and movie buffs, we urge you to google "holiday movies and wine pairings" for pairing inspiration and for laughs! 😂📽️🍾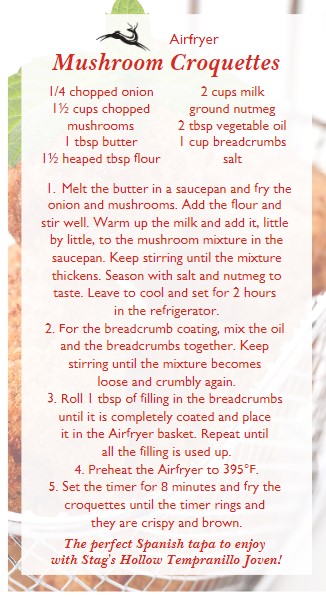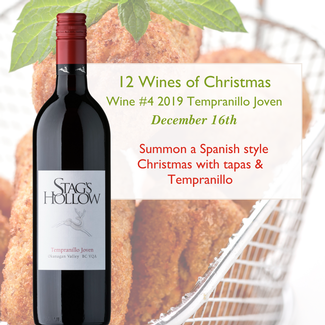 OPEN WINE #4
The next wine to reveal is coming out of our library, exclusively for this advent! Our 2019 Tempranillo Joven or "young" wine is a zippy, fresh interpretation of the classic Tempranillo grape. Red berries, sour cherry, & pomegranate fruits along with a low level of tannins and bright acidity, make this an ideal wine to enjoy in its youth. Spanish tapas (olives, sardines, croquettas, calamari, albondigas, cheese boards), robust & spicy lamb dishes, and charcuterie (jamon & chorizo especially) pair perfectly with this Spanish varietal. Try this easy airfryer Mushroom Croquetta recipe and let us know what you think, buen provecho!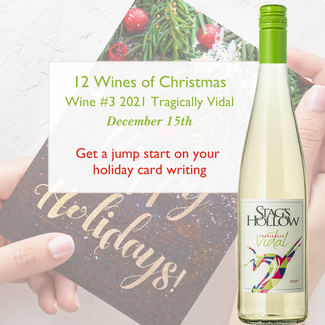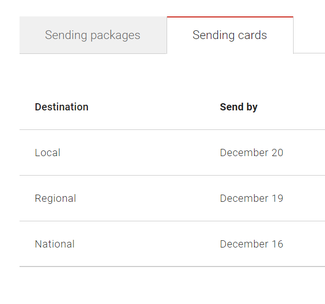 OPEN WINE #3
The next advent wine to reveal is our double-gold winning 2021 Tragically Vidal: a textural mouthfeel full of ripe stone fruit, pineapple, melon, dried mango, bergamot and candied ginger. Pour a glass and get a jump start on your holiday card writing….we've included a pen and card just for this, along with the Canada Post deadlines for Christmas cards. Happy holiday sipping!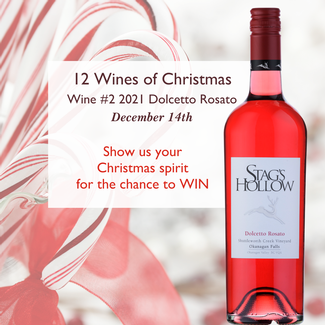 And the holiday sipping continues…
OPEN WINE #2...
The next advent wine to reveal is our 2021 Dolcetto Rosato: Don't let its electric magenta colour fool you - this Rosato is drier, more savoury and fuller in flavour than most of its paler rosé counterparts. Driven by Dolcetto's intense varietal character, the nose is bursting with red fruit, wildflowers, spice and herbs.
This colourful wine is the perfect bottle to snap a selfie with! Show us your Christmas spirit holding this Dolcetto Rosato bottle, post it to Facebook or Instagram and tag us for the chance to win a bonus bottle of wine 🍷🦌🎁

Enter your photo by December 31st, 2022 to qualify. Winner will be chosen by random draw January 2, 2023. This is an advent exclusive contest. Good luck!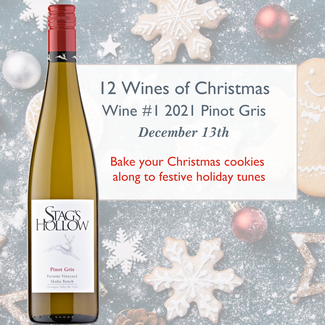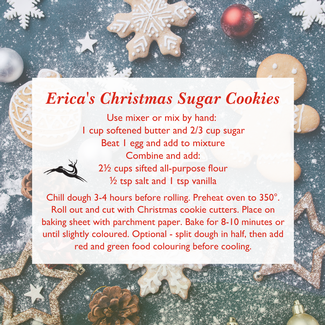 Our countdown to Christmas has officially begun! Over the next twelve days we will reveal a new wine each day paired with our winery family's favourite holiday activities, as part of our 12 Wines of Christmas Advent. We invite everyone to join in on the fun with us! Almost every bottle has a surprise attached to it, so be sure to watch for this and pull out each wine carefully.

OPEN WINE #1...
The first reveal is our 2021 Pinot Gris: an alluring combination of white peach, ripe apple, honey, jasmine and a hint of citrus. This rich, textural wine gets us in the mood for some Christmas baking, so let's get the holidays rolling! We've created a playlist on Spotify just for this... "Stag's Hollow Holiday Playlist" …and to make this day even sweeter, we've added our go-to Christmas sugar cookie recipe to bake along with and a pouch of colourful edible sprinkles to top your cookies. Enjoy🎶🍪
Please note, the packaging used to create these advent boxes was all sustainably sourced, including the biodegradable foam-like packing peanuts.

🥇Just in! Our Renaissance Pinot Noir has been awarded Gold at the Global Fine Wine Challenge. The following three wines were included in the Top 120 list from Canada, compiled by Christopher Waters, to be invited for submission to the competition.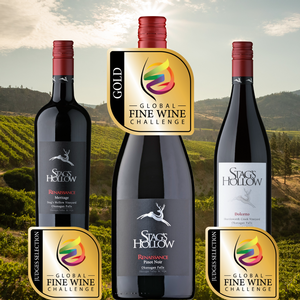 Renaissance Pinot Noir 2020
Score 95 ~ Gold
"Gorgeous blackcurrant and black cherry aromas. Soft juicy fruit on the mid-palate. Friendly and easy to love."
Renaissance Meritage 2018
Score 96 ~ Judges Selection
"Fragrant bouquet of red current, red and black plum with gentle leafy overtones. Medium bodied and well-structured with plentiful fine-grained tannins and a long persistent finish."

Dolcetto 2019
Score 92 ~ Judges Selection
"Cranberry and red cherry aromas. The palate has lovely tautness and energy."

Full results are available for viewing and download from www.globalfine.wine. 🍷🍾

Our 2019 Dolcetto has just been featured in an article by Tom Firth, in Culinaire Magazine out of Calgary.

Stag's Hollow 2019 Shuttleworth Creek Vineyard Dolcetto, Okanagan Falls British Columbia
Dolcetto is a grape that is rarely seen outside of Italy, but there are a number of places it seems to be perfectly at home – including at Stag's Hollow in Okanagan Falls. A fine balance of earthiness (and a whiff of smoke at first) on the nose with good support from black plums and spiciness. On the palate things start to sing with brightness to the fruits and a crisp, thoughtful finish. A fine alternative to a pinot noir this season. See full feature here.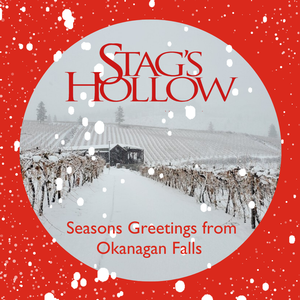 Once again, we've put together some festive Holiday Wine Packs and Free Shipping Specials to get you through the holidays, including our 12 Wines of Christmas Advent Calendar. Send as gifts to your loved ones...or stock your own shelves for the holiday season.
In appreciation of your support over the last year, we are offering FREE SHIPPING on orders of 12 bottles or more within BC/Alberta and $25 OFF SHIPPING to Eastern provinces. For orders of 6 bottles, we are offering a FLAT RATE of $15 to BC/Alberta and $15 OFF SHIPPING to Eastern provinces. To our Wine Club Members, we are extending the FREE SHIPPING offer to orders of 6 bottles or more across all provinces. These site-wide shipping specials end November 20th.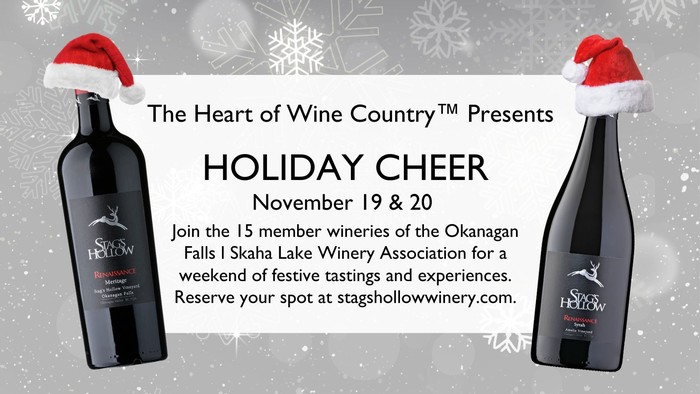 Shop local and sustainable this holiday season! As part of the Okanagan Falls | Skaha Lake Winery Association Holiday Cheer Weekend (November 19-20), Stag's Hollow Winery will be offering festive tastings by reservation from 11am to 4pm each day. Plus, get a jump start on some of your holiday shopping at our mini-market featuring local artisans: Steph Perry Fine Art & Illustration, Schnell Design promo gifts and custom crafts, RoshniWellnesss handmade natural candles, and Sea Wolf & Sage knitwear and jewellery.
Tastings are free all weekend. Walk-ins welcome. Reservations recommended. Book your tasting.
For more information on what our neighbouring wineries are also offering that weekend, please visit www.theheartofwinecountry.ca.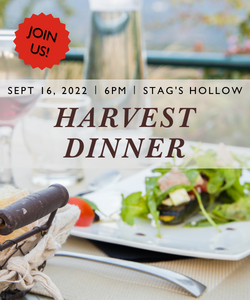 Celebrate harvest with us at our annual long-table dinner overlooking the scenic hollow, catered by Chef Brock Bowes and his amazing culinary team at Provisions Kitchen.
Enjoy an intimate multi-course dining experience featuring locally sourced, seasonal ingredients paired with a selection of award-winning Stag's Hollow wines, presented by our winemaker Keira LeFranc.

TICKETS / INFO HERE