Stag's Hollow Winery News
Welcome to the Stag's Hollow blog! Stay up to date on everything happening at the winery, including highlights on wine competition awards, events (on and off-site), wine education info, promotions, and articles that feature our wines.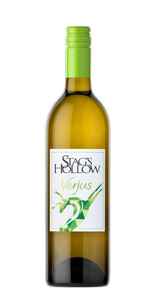 Who's looking to fun up their dry January? Verjus is the perfect non-alcoholic additive to your favourite mocktails! It's also a great vinegar or citrus substitute in many dressings and dishes.
So...what is it exactly? Verjus, derived from the French vert jus, is the unfermented "green juice" of unripe grapes. At the onset of veraison, as the grapes begin to change colour, we balance the crop load by dropping a percentage of the clusters, ensuring the remaining fruit has the best chance at maturing fully. Rather than let this fruit rot on the ground, we decided to press it off, resulting in a youthful, acidic (and sustainable) juice that can be used in salad dressings, non-alcoholic cocktails and so much more.
Available in our Wine Shop and online. BUY Stag's Hollow Verjus HERE
Read more in the article "Why verjus has become the darling of nonalcoholic-drink makers" from the Washington Post and google Verjus for lots of interesting recipes! Here's a few recipes worth a try...

VERJUS SPRITZ
A non-alcoholic spritzer with Verjus.

2 oz Verjus
2 oz Soda water
2 oz Tonic water
1 lemon twist for garnish
APPLE VERJUS SPRITZ
A non-alcoholic spritzer with Verjus.
Ingredients
3 oz Verjus
2 oz Soda
1/2 oz Simple Syrup
1 handful Apple and Blood Orange Slices
Instructions
In a wine glass, fill it completely with fruits and ice.
Pour the rest of the ingredients, topped with soda and stir before enjoying.
VERJUS WINE GUMS
This recipe fills about 45 1" gum molds or three sheets of 15 molds.
Equipment needed: Saucepan, Gum molds (ice tray), Eyedropper.
Ingredients
½ cup sugar
3 packets of powdered gelatin, 0.75 ounces
1 cup unoaked white or rosé wine (Verjus)
Red and yellow food coloring (or colours of choice)
How To Make
Place sugar and powdered gelatin in the saucepan and whisk to mix.
Add wine and place over medium-low heat. Whisk for two minutes to dissolve sugar and gelatin into wine.
There may be a small layer of white foam that you can remove with a rubber spatula.
Add a few drops of yellow food coloring and stir to combine.
Using the eyedropper begin filling your molds, starting with about the first nine.
Add a few drops of red food coloring to the wine gelatin mixture and stir. You are building deeper and deeper colors to add to your molds, giving you a variety of hues. Fill another nine molds. Repeat adding coloring and filling the molds until complete.
Refrigerate for an hour to set the gelatin. Gums will release from the molds easily and will keep for a week.
Join us on Friday, January 27th, as we present Stag's Hollow wines at SENSATION - An Eve for the Senses; a grand tasting taking place at the Penticton Trade and Convention Centre. An evening of wine and culinary pairings with a focus on our senses. Explore BC wines and educate your palate while enjoying a winter's eve.
In addition to incredible wine and food, guests will be treated to entertainment that will tease the sense of touch, smell, sight and hearing. This is the kick-off evening to a weekend of wonderful winter programming in the beautiful Okanagan.
Take advantage of the ticket sale, on now until Sunday, Jan 22! Use PROMO CODE OWWF23 to receive 10% off your ticket. Need a hotel? Click here to check out some great savings at hotel partners in the South Okanagan.
The Okanagan Wine Festival proudly presents the Inaugural Okanagan Winter Wine Festival on January 27th and 28th, 2023.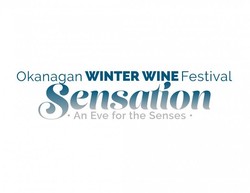 BUY TICKETS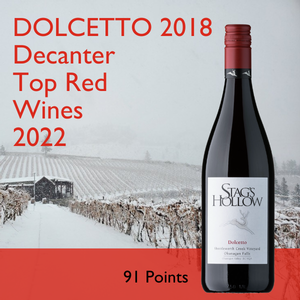 Dolcetto Makes the List!
We are thrilled to announce our 2018 Dolcetto has been chosen for Decanter's Top Red Wines of 2022! With only 3 of the 63 nominations being Canadian, we are honoured to be recognized alongside these world-renowned wineries.
Decanter is the world's leading wine media brand and the oldest wine publication in the UK. The associated Decanter World Wine Awards has established itself as the world's largest and most influential wine competition.
Each year, the Decanter Team and Contributors taste over 30,000 wines from around the world. They each submit their top 3 wines of the year to the tasting event to determine the Decanter Top Wines of the Year. In 2022, our 2018 Dolcetto was submitted by Tina Gellie, Content Editor & Regional Editor for US, Canada, Australia, New Zealand and South Africa, as one of her Top 3 and it was later nominated as one of the Top Red Wines of 2022.
In light of this exciting news, we are pulling a few cases of 2018 Dolcetto from our library. This wine will be available for purchase starting today on our website and at our Wine Shop. Click here to learn more about this special wine.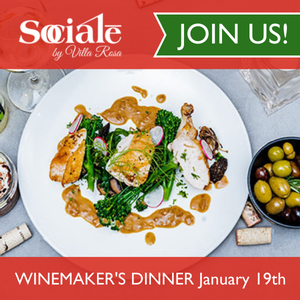 Thursday January 19th, 6:30pm
Celebrate the start of the new year with us at Sociale in Penticton! This is a rare opportunity to spend an intimate evening with winemaker, Keira Lefranc, and the culinary team at Sociale. Seating is limited for this five-course wine and tapas pairing event, so please reserve early and we will see you there!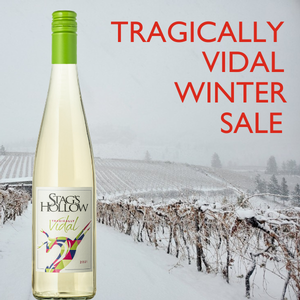 We're starting off the new year with a bang!
Our double-gold winning 2021 Tragically Vidal is now on sale for a limited time. Purchase 6 bottles to receive 10% off or 12 bottles to receive 15% off.
Wine club members, remember to log in to receive your additional discount.
Happy shopping!
Sale ends January 15th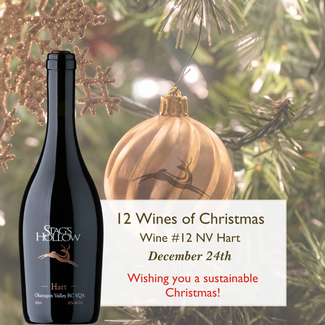 OPEN WINE #12
Finally, it's Christmas Eve! If you love after-dinner dessert wine as much as we do, this next advent wine will be a wonderful end to your holiday meal. Our port-style NV Hart - named after a mature male deer or stag - is a special wine that comes from the heart in the cellar of Stag's Hollow. Flavours are reminiscent of Christmas cake, with dried cherry, raspberry jam, preserved Italian plums, baking spice and garrigue. This being our last advent wine, we want to take a moment to thank you for counting down to the big day with us and wish you a very Merry Christmas. Enjoy your sustainable tree ornament! Have a fantastic holiday season and we'll see you in 2023!
From the SHW family,
Erin, Eric, Keira, Julie, Jennifer, Libby, Vilem, Josef & Erica
🎅☃️🎄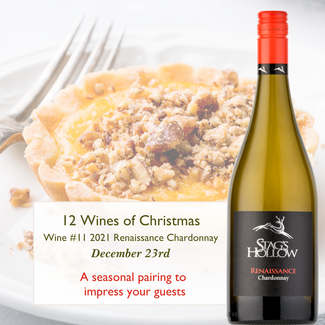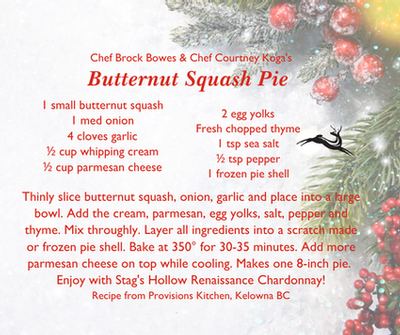 OPEN WINE #11
Almost there! Our next reveal is our expressive 2021 Renaissance Chardonnay: restrained and mineral-driven, yet rich and textural, with mouthwatering citrus and a creamy finish. This is our first Chardonnay in 11 years, we hope you enjoy it as much as we do!
Who has out-of-town guests to impress? Or maybe you're looking to spice up your next Christmas gathering? This holiday-inspired dish from our friends at Provisions Kitchen & Catering in Kelowna was created especially to pair with our Chardonnay, and for all the chard-cores out there. A big thank you to Chefs Brock Bowes and Courtney Koga for sharing this recipe with us. Some of you may remember them from our Harvest Dinner back in September... watch for this event to pop up again in Fall 2023, we would love to see you there!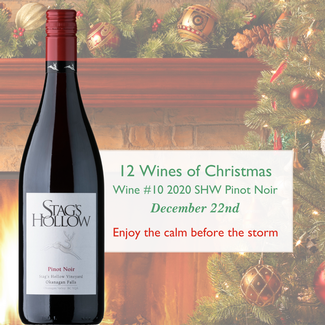 OPEN WINE #10
Today we are happy to reveal the next advent wine is our estate SHW 2020 Pinot Noir: dominated by notes of black cherry, bramble, candied red fruit, plum, warm spice, anise and cola. The palate is balanced by an elegant backbone of acidity that brings a litheness to this structured Pinot. Who doesn't love curling up with a good book in front of the fireplace with the Christmas tree sparkling in the background? By now you should have all of your shopping done, so take the time to sit back, relax, pour a glass and read a book from our curated list of wine-related staff faves (okay, we haven't read them all, but judging by the titles they sound like books we would thoroughly enjoy), you're almost there...

1. WINE FOLLY: MAGNUM EDITION: THE MASTER GUIDE
2. THE WINEMAKER'S WIFE
3. MISTLETOE AND MULLED WINE AT THE CHRISTMAS CAMPERVAN
4. RED, WHITE, AND DRUNK ALL OVER: A WINE SOAKED JOURNEY FROM GRAPE TO GLASS
5. THE WINE LOVER'S BUCKET LIST: 1,000 AMAZING ADVENTURES IN PURSUIT OF WINE
6. THE BILLIONAIRE'S VINEGAR: THE MYSTERY OF THE WORLD'S MOST EXPENSIVE BOTTLE OF WINE
7. THE ESSENTIAL SCRATCH & SNIFF GUIDE TO BECOMING A WINE EXPERT
8. THE SOMMELIER'S ATLAS OF TASTE: A FIELD GUIDE TO THE GREAT WINES OF EUROPE
9. CORK DORK: A WINE-FUELED ADVENTURE AMONG THE OBSESSIVE SOMMELIERS, BIG BOTTLE HUNTERS & ROGUE SCIENTISTS WHO TAUGHT ME TO LIVE FOR TASTE
10. THE OXFORD COMPANION TO WINE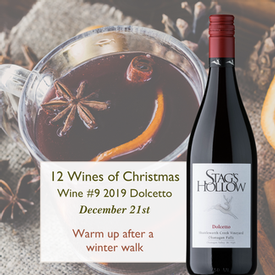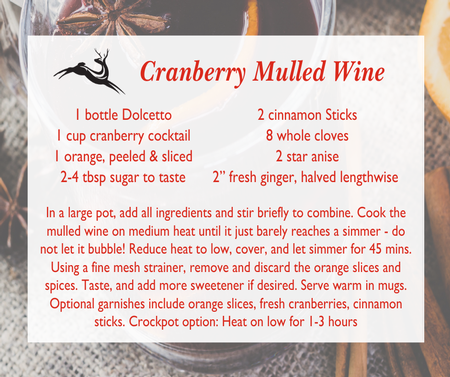 OPEN WINE #9
With the recent extremely cold BC temperatures, it is the perfect time to reveal this next advent wine! Our award-winning 2019 Dolcetto can be enjoyed slightly chilled in the summer, but it is wonderful in the winter as the main ingredient in a mulled wine. Warm up over the holidays with our Dolcetto mulled wine recipe complete with a pouch of mulled wine spices (attached to the bottle, watch for this when you pull it out). This proven recipe is a favourite among our guests at our annual Holiday Cheer event, we hope you will enjoy it too! We also have an entire event dedicated to the Dolcetto grape - join us at FESTA DEL DOLCETTO in July 2023! Stay tuned to our channels for more information.
More on this unique wine:
Dolcetto is a grape that consistently inspires experimentation and excitement, with every new vintage. This Italian varietal was planted in 2012 at our Shuttleworth Creek Vineyard and our first vintage was harvested in 2015. Dolcetto features bright flavours of sour cherries, Italian prune, plums, blueberry pie and bramble mingle with more masculine notes of earth, dried violets, spice and savoury botanicals. With its deliciously soft tannins and vibrantly expressive grape character, Dolcetto is the perfect accompaniment to pizza, charcuterie, pasta, spaghetti & meatballs, and many more Italian-inspired dishes.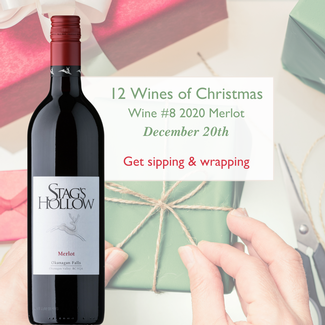 OPEN WINE #8
The next advent wine to reveal is our bright,
fruit-forward 2020 Merlot: cherry and red berry fruits
dominate, with soft ripe tannins, subtle oaky notes, and
a pleasantly savoury finish. At the winery, we love to
enjoy Merlot with chocolate, so we thought this advent
wine was the perfect inspiration to get out the presents
and chocolate and finish our Christmas wrapping. Don't
leave it until the last minute, put on the Burl Ives and
get wrapping!🎄🎁🎄
Pairs well with charcuterie, roast beef, game pies, grilled
meat (steak, sausage, etc.), burgers, turkey dinner, lamb,
stews, and chilli con carne.
This wine can also be cellared to enjoy over the next 5-10 years.