Stag's Hollow Winery News
Welcome to the Stag's Hollow blog! Stay up to date on everything happening at the winery, including highlights on wine competition awards, events (on and off-site), wine education info, promotions, and articles that feature our wines.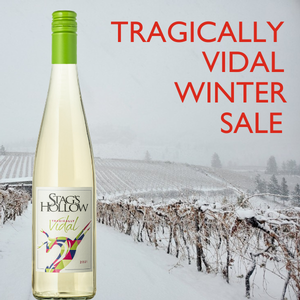 We're starting off the new year with a bang!
Our double-gold winning 2021 Tragically Vidal is now on sale for a limited time. Purchase 6 bottles to receive 10% off or 12 bottles to receive 15% off.
Wine club members, remember to log in to receive your additional discount.
Happy shopping!
Sale ends January 15th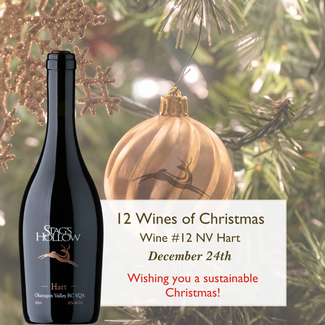 OPEN WINE #12
Finally, it's Christmas Eve! If you love after-dinner dessert wine as much as we do, this next advent wine will be a wonderful end to your holiday meal. Our port-style NV Hart - named after a mature male deer or stag - is a special wine that comes from the heart in the cellar of Stag's Hollow. Flavours are reminiscent of Christmas cake, with dried cherry, raspberry jam, preserved Italian plums, baking spice and garrigue. This being our last advent wine, we want to take a moment to thank you for counting down to the big day with us and wish you a very Merry Christmas. Enjoy your sustainable tree ornament! Have a fantastic holiday season and we'll see you in 2023!
From the SHW family,
Erin, Eric, Keira, Julie, Jennifer, Libby, Vilem, Josef & Erica
🎅☃️🎄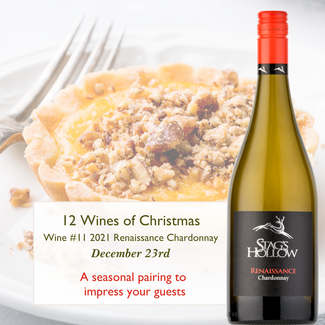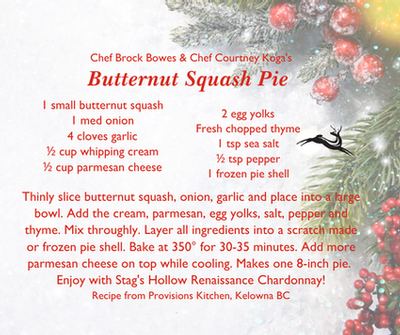 OPEN WINE #11
Almost there! Our next reveal is our expressive 2021 Renaissance Chardonnay: restrained and mineral-driven, yet rich and textural, with mouthwatering citrus and a creamy finish. This is our first Chardonnay in 11 years, we hope you enjoy it as much as we do!
Who has out-of-town guests to impress? Or maybe you're looking to spice up your next Christmas gathering? This holiday-inspired dish from our friends at Provisions Kitchen & Catering in Kelowna was created especially to pair with our Chardonnay, and for all the chard-cores out there. A big thank you to Chefs Brock Bowes and Courtney Koga for sharing this recipe with us. Some of you may remember them from our Harvest Dinner back in September... watch for this event to pop up again in Fall 2023, we would love to see you there!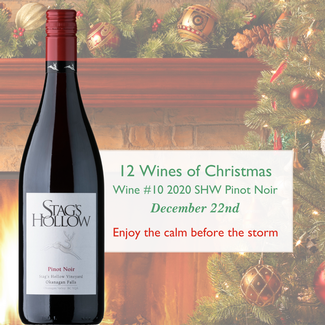 OPEN WINE #10
Today we are happy to reveal the next advent wine is our estate SHW 2020 Pinot Noir: dominated by notes of black cherry, bramble, candied red fruit, plum, warm spice, anise and cola. The palate is balanced by an elegant backbone of acidity that brings a litheness to this structured Pinot. Who doesn't love curling up with a good book in front of the fireplace with the Christmas tree sparkling in the background? By now you should have all of your shopping done, so take the time to sit back, relax, pour a glass and read a book from our curated list of wine-related staff faves (okay, we haven't read them all, but judging by the titles they sound like books we would thoroughly enjoy), you're almost there...

1. WINE FOLLY: MAGNUM EDITION: THE MASTER GUIDE
2. THE WINEMAKER'S WIFE
3. MISTLETOE AND MULLED WINE AT THE CHRISTMAS CAMPERVAN
4. RED, WHITE, AND DRUNK ALL OVER: A WINE SOAKED JOURNEY FROM GRAPE TO GLASS
5. THE WINE LOVER'S BUCKET LIST: 1,000 AMAZING ADVENTURES IN PURSUIT OF WINE
6. THE BILLIONAIRE'S VINEGAR: THE MYSTERY OF THE WORLD'S MOST EXPENSIVE BOTTLE OF WINE
7. THE ESSENTIAL SCRATCH & SNIFF GUIDE TO BECOMING A WINE EXPERT
8. THE SOMMELIER'S ATLAS OF TASTE: A FIELD GUIDE TO THE GREAT WINES OF EUROPE
9. CORK DORK: A WINE-FUELED ADVENTURE AMONG THE OBSESSIVE SOMMELIERS, BIG BOTTLE HUNTERS & ROGUE SCIENTISTS WHO TAUGHT ME TO LIVE FOR TASTE
10. THE OXFORD COMPANION TO WINE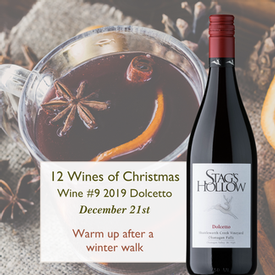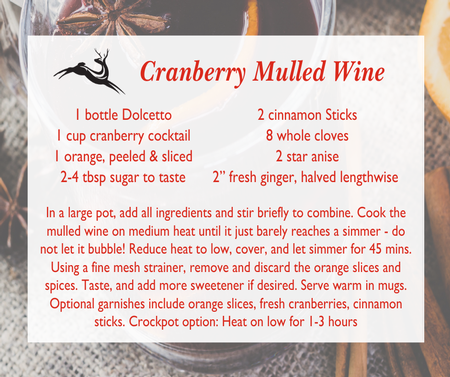 OPEN WINE #9
With the recent extremely cold BC temperatures, it is the perfect time to reveal this next advent wine! Our award-winning 2019 Dolcetto can be enjoyed slightly chilled in the summer, but it is wonderful in the winter as the main ingredient in a mulled wine. Warm up over the holidays with our Dolcetto mulled wine recipe complete with a pouch of mulled wine spices (attached to the bottle, watch for this when you pull it out). This proven recipe is a favourite among our guests at our annual Holiday Cheer event, we hope you will enjoy it too! We also have an entire event dedicated to the Dolcetto grape - join us at FESTA DEL DOLCETTO in July 2023! Stay tuned to our channels for more information.
More on this unique wine:
Dolcetto is a grape that consistently inspires experimentation and excitement, with every new vintage. This Italian varietal was planted in 2012 at our Shuttleworth Creek Vineyard and our first vintage was harvested in 2015. Dolcetto features bright flavours of sour cherries, Italian prune, plums, blueberry pie and bramble mingle with more masculine notes of earth, dried violets, spice and savoury botanicals. With its deliciously soft tannins and vibrantly expressive grape character, Dolcetto is the perfect accompaniment to pizza, charcuterie, pasta, spaghetti & meatballs, and many more Italian-inspired dishes.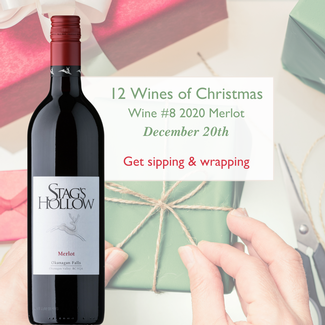 OPEN WINE #8
The next advent wine to reveal is our bright,
fruit-forward 2020 Merlot: cherry and red berry fruits
dominate, with soft ripe tannins, subtle oaky notes, and
a pleasantly savoury finish. At the winery, we love to
enjoy Merlot with chocolate, so we thought this advent
wine was the perfect inspiration to get out the presents
and chocolate and finish our Christmas wrapping. Don't
leave it until the last minute, put on the Burl Ives and
get wrapping!🎄🎁🎄
Pairs well with charcuterie, roast beef, game pies, grilled
meat (steak, sausage, etc.), burgers, turkey dinner, lamb,
stews, and chilli con carne.
This wine can also be cellared to enjoy over the next 5-10 years.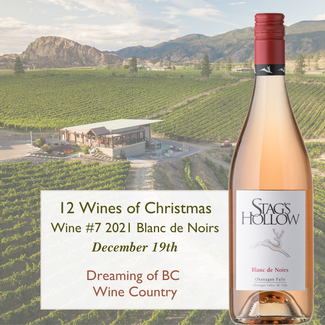 OPEN WINE #7
The next advent wine reveal is our full-bodied 2021 Blanc de Noirs: rich baked apple, peaches and cream, biscuits, marzipan and crème brulée flavours carry through to a finish of honey-covered almonds, spicy ginger and crisp apple. How does this wine get its name? When red grapes are pressed and the juice is allowed to ferment after being separated from the skins, the result is white wine, referred to as "blanc de noirs", meaning a white wine from dark grapes. Read more on this special wine at stagshollowwinery.com/News
When you pull out this bottle you will see a voucher for a complimentary VIP tasting at the winery, plus 10% off everything you purchase that day. Keep this card and contact us when you are ready to make your 2023 travel plans so we can book you in over the season. Until then, stay tuned to our social channels and keep dreaming of #BCWineCountry 🍷🍷💤💤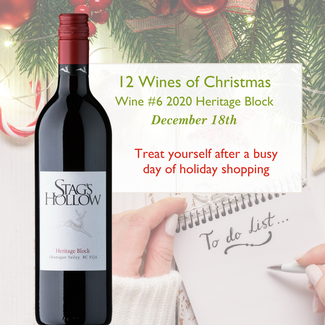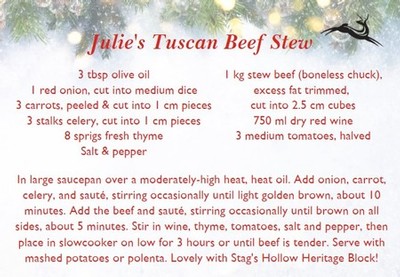 OPEN WINE #6
Write your list, check it twice and get shopping…then come home to dinner and our 2020 Heritage Block! Dark fruit dominates the palate, with plenty of ripe tannins, a hint of spice and juicy acidity, making this a great red to be paired with Julie's favorite crockpot Tuscan Beef Stew. An easy stress-free Sunday meal that you can prepare in the morning, leave for the day and enjoy that night. Happy shopping! 🛒🤶🏻 🛍️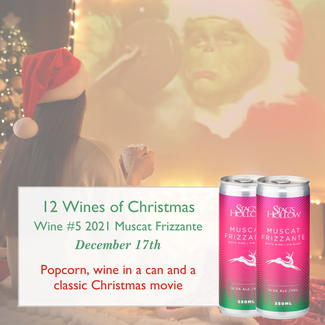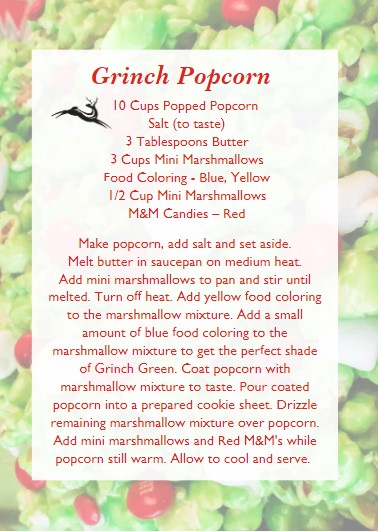 OPEN WINE #5
Saturday is movie night! Our 2021 Sparkling Muscat Frizzante will keep your spirits up while you marathon through all the holiday classics. And you can't watch movies without popcorn! We've included a recipe for our colourful Grinch Popcorn. Big wine lovers and movie buffs, we urge you to google "holiday movies and wine pairings" for pairing inspiration and for laughs! 😂📽️🍾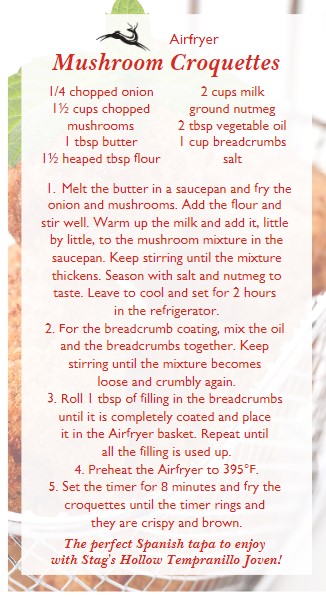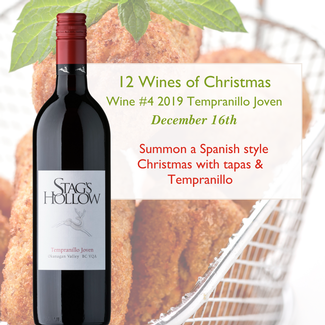 OPEN WINE #4
The next wine to reveal is coming out of our library, exclusively for this advent! Our 2019 Tempranillo Joven or "young" wine is a zippy, fresh interpretation of the classic Tempranillo grape. Red berries, sour cherry, & pomegranate fruits along with a low level of tannins and bright acidity, make this an ideal wine to enjoy in its youth. Spanish tapas (olives, sardines, croquettas, calamari, albondigas, cheese boards), robust & spicy lamb dishes, and charcuterie (jamon & chorizo especially) pair perfectly with this Spanish varietal. Try this easy airfryer Mushroom Croquetta recipe and let us know what you think, buen provecho!