January 24, 2023 | Erica Mcintosh
Verjus - Your Dry January Solution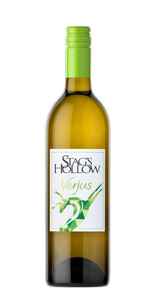 Who's looking to fun up their dry January? Verjus is the perfect non-alcoholic additive to your favourite mocktails! It's also a great vinegar or citrus substitute in many dressings and dishes.
So...what is it exactly? Verjus, derived from the French vert jus, is the unfermented "green juice" of unripe grapes. At the onset of veraison, as the grapes begin to change colour, we balance the crop load by dropping a percentage of the clusters, ensuring the remaining fruit has the best chance at maturing fully. Rather than let this fruit rot on the ground, we decided to press it off, resulting in a youthful, acidic (and sustainable) juice that can be used in salad dressings, non-alcoholic cocktails and so much more.
Available in our Wine Shop and online. BUY Stag's Hollow Verjus HERE
Read more in the article "Why verjus has become the darling of nonalcoholic-drink makers" from the Washington Post and google Verjus for lots of interesting recipes! Here's a few recipes worth a try...

VERJUS SPRITZ
A non-alcoholic spritzer with Verjus.

2 oz Verjus
2 oz Soda water
2 oz Tonic water
1 lemon twist for garnish
APPLE VERJUS SPRITZ
A non-alcoholic spritzer with Verjus.
Ingredients
3 oz Verjus
2 oz Soda
1/2 oz Simple Syrup
1 handful Apple and Blood Orange Slices
Instructions
In a wine glass, fill it completely with fruits and ice.
Pour the rest of the ingredients, topped with soda and stir before enjoying.
VERJUS WINE GUMS
This recipe fills about 45 1" gum molds or three sheets of 15 molds.
Equipment needed: Saucepan, Gum molds (ice tray), Eyedropper.
Ingredients
½ cup sugar
3 packets of powdered gelatin, 0.75 ounces
1 cup unoaked white or rosé wine (Verjus)
Red and yellow food coloring (or colours of choice)
How To Make
Place sugar and powdered gelatin in the saucepan and whisk to mix.
Add wine and place over medium-low heat. Whisk for two minutes to dissolve sugar and gelatin into wine.
There may be a small layer of white foam that you can remove with a rubber spatula.
Add a few drops of yellow food coloring and stir to combine.
Using the eyedropper begin filling your molds, starting with about the first nine.
Add a few drops of red food coloring to the wine gelatin mixture and stir. You are building deeper and deeper colors to add to your molds, giving you a variety of hues. Fill another nine molds. Repeat adding coloring and filling the molds until complete.
Refrigerate for an hour to set the gelatin. Gums will release from the molds easily and will keep for a week.
Comments
Commenting has been turned off.