Stag's Hollow Winery News
Welcome to the Stag's Hollow blog! Stay up to date on everything happening at the winery, including highlights on wine competition awards, events (on and off-site), wine education info, promotions, and articles that feature our wines.
Don't miss out on our upcoming Harvest Dinner on September 13th catered by Chef Ben Godin (Wild Goose Bistro). Join winemaker Keira Lefranc, assistant winemaker Libby Nixon, sommelier Ron Rocher and the rest of the Stag's Hollow family for an extraordinary evening of food and wine to celebrate this year's harvest and toast the new season.
SOLD OUT!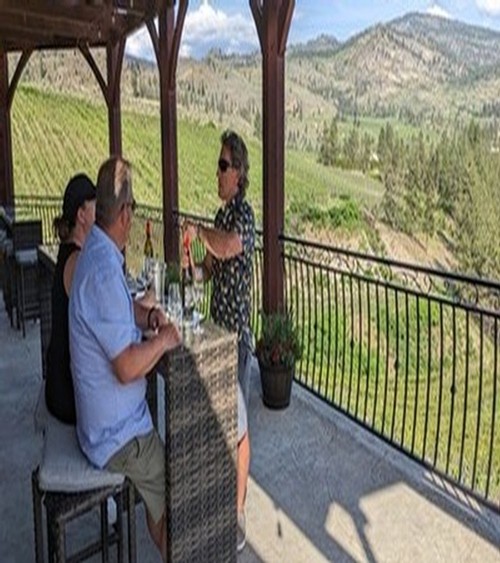 We are lucky to have our friend and sommelier, Ron Rocher (@vinetowinebc), work with us over the next few months, offering his extensive industry knowledge and passion for local wine to our guests looking for a more elevated tasting experience. Ron is a big supporter of our small, family-owned winery, and we love the energy and humour he brings to Stag's Hollow when he is here! If you're interested in meeting with Ron on your next visit to the winery, try to let us know ahead of time so we can book you in on a day that he is on site. Call to reserve your spot with Ron: 250.497.6162.
NEXT DATES to taste with Ron:
Saturday, Oct 7th
Sunday, Oct 15th
Saturday Oct 21st
Join us for FOOD TRUCK TUESDAYS every week over July & August! 🌭🍷🌮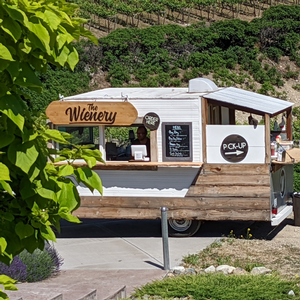 July 4th – The Wienery
July 11th – Law Of Attraction
July 18th – The Wienery
July 25th – Law Of Attraction
Aug 1st – Law Of Attraction
Aug 8th – The Wienery
Aug 15th – Law Of Attraction
Aug 22nd – Fiesta Mexicana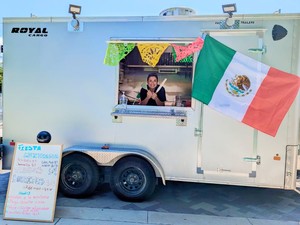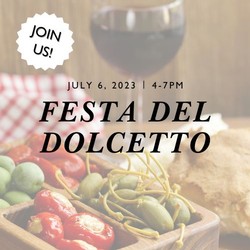 You're invited to join us!
Let's celebrate this expressive Italian grape and its place in the Okanagan landscape! Dine on Italian antipasti and spuntini while sipping through various styles and vintages of Dolcetto on the patio overlooking the hollow. Live music from 4-7pm.
SOLD OUT
---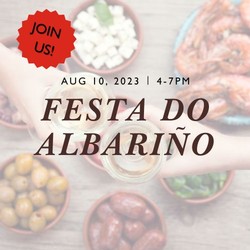 Let's party like we're in Spain!
Inspired by the annual wine festival of the same name in Cambados, Spain, we're celebrating this vibrant white wine with Spanish tapas, live music, sangria, and of course, a grand tasting of our new 2022 Albariño! Live music 4-7pm.
SOLD OUT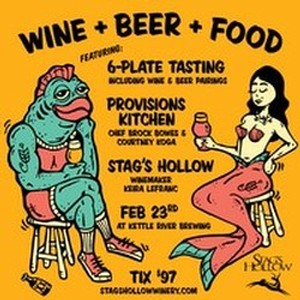 Chef Brock Bowes and Chef Courtney Koga are joining forces with Stag's Hollow Winemaker Keira LeFranc for a special six-plate chef's tasting event. Each course will alternate between comfort brewery food and high-end "fine dining" with an unexpected pairing twist. Join us in Kelowna for this culinary adventure!
THURSDAY, FEB 23rd 6:30pm
KETTLE RIVER BREWERY & PROVISIONS KITCHEN
TIX $97 HERE
INCLUDES FOOD, WINE & BEER, TAX & GRATUITY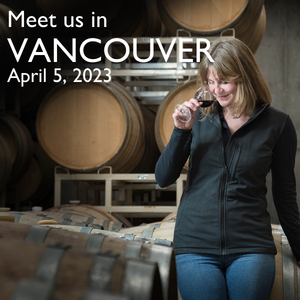 The Heart of Wine Country™ is pleased to announce the date for our Vancouver Spring Release event. Join us on Wednesday, April 5th at the elegant Vancouver Club and visit all of your favourite Okanagan Falls l Skaha Lake wineries in one special night.
Come meet and mingle with the people behind the wine and sample their newest vintages, paired with delicious small bites prepared by the legendary chefs of the Vancouver Club.
The first ten tickets sold using code Stags23 will receive $15 off.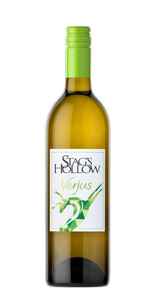 Who's looking to fun up their dry January? Verjus is the perfect non-alcoholic additive to your favourite mocktails! It's also a great vinegar or citrus substitute in many dressings and dishes.
So...what is it exactly? Verjus, derived from the French vert jus, is the unfermented "green juice" of unripe grapes. At the onset of veraison, as the grapes begin to change colour, we balance the crop load by dropping a percentage of the clusters, ensuring the remaining fruit has the best chance at maturing fully. Rather than let this fruit rot on the ground, we decided to press it off, resulting in a youthful, acidic (and sustainable) juice that can be used in salad dressings, non-alcoholic cocktails and so much more.
Available in our Wine Shop and online. BUY Stag's Hollow Verjus HERE
Read more in the article "Why verjus has become the darling of nonalcoholic-drink makers" from the Washington Post and google Verjus for lots of interesting recipes! Here's a few recipes worth a try...

VERJUS SPRITZ
A non-alcoholic spritzer with Verjus.

2 oz Verjus
2 oz Soda water
2 oz Tonic water
1 lemon twist for garnish
APPLE VERJUS SPRITZ
A non-alcoholic spritzer with Verjus.
Ingredients
3 oz Verjus
2 oz Soda
1/2 oz Simple Syrup
1 handful Apple and Blood Orange Slices
Instructions
In a wine glass, fill it completely with fruits and ice.
Pour the rest of the ingredients, topped with soda and stir before enjoying.
VERJUS WINE GUMS
This recipe fills about 45 1" gum molds or three sheets of 15 molds.
Equipment needed: Saucepan, Gum molds (ice tray), Eyedropper.
Ingredients
½ cup sugar
3 packets of powdered gelatin, 0.75 ounces
1 cup unoaked white or rosé wine (Verjus)
Red and yellow food coloring (or colours of choice)
How To Make
Place sugar and powdered gelatin in the saucepan and whisk to mix.
Add wine and place over medium-low heat. Whisk for two minutes to dissolve sugar and gelatin into wine.
There may be a small layer of white foam that you can remove with a rubber spatula.
Add a few drops of yellow food coloring and stir to combine.
Using the eyedropper begin filling your molds, starting with about the first nine.
Add a few drops of red food coloring to the wine gelatin mixture and stir. You are building deeper and deeper colors to add to your molds, giving you a variety of hues. Fill another nine molds. Repeat adding coloring and filling the molds until complete.
Refrigerate for an hour to set the gelatin. Gums will release from the molds easily and will keep for a week.
Join us on Friday, January 27th, as we present Stag's Hollow wines at SENSATION - An Eve for the Senses; a grand tasting taking place at the Penticton Trade and Convention Centre. An evening of wine and culinary pairings with a focus on our senses. Explore BC wines and educate your palate while enjoying a winter's eve.
In addition to incredible wine and food, guests will be treated to entertainment that will tease the sense of touch, smell, sight and hearing. This is the kick-off evening to a weekend of wonderful winter programming in the beautiful Okanagan.
Take advantage of the ticket sale, on now until Sunday, Jan 22! Use PROMO CODE OWWF23 to receive 10% off your ticket. Need a hotel? Click here to check out some great savings at hotel partners in the South Okanagan.
The Okanagan Wine Festival proudly presents the Inaugural Okanagan Winter Wine Festival on January 27th and 28th, 2023.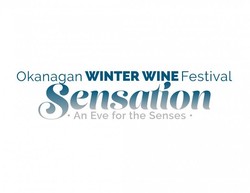 BUY TICKETS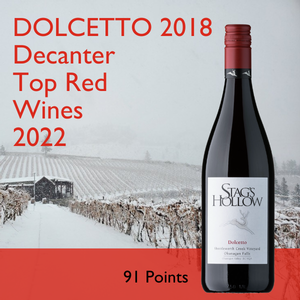 Dolcetto Makes the List!
We are thrilled to announce our 2018 Dolcetto has been chosen for Decanter's Top Red Wines of 2022! With only 3 of the 63 nominations being Canadian, we are honoured to be recognized alongside these world-renowned wineries.
Decanter is the world's leading wine media brand and the oldest wine publication in the UK. The associated Decanter World Wine Awards has established itself as the world's largest and most influential wine competition.
Each year, the Decanter Team and Contributors taste over 30,000 wines from around the world. They each submit their top 3 wines of the year to the tasting event to determine the Decanter Top Wines of the Year. In 2022, our 2018 Dolcetto was submitted by Tina Gellie, Content Editor & Regional Editor for US, Canada, Australia, New Zealand and South Africa, as one of her Top 3 and it was later nominated as one of the Top Red Wines of 2022.
In light of this exciting news, we are pulling a few cases of 2018 Dolcetto from our library. This wine will be available for purchase starting today on our website and at our Wine Shop. Click here to learn more about this special wine.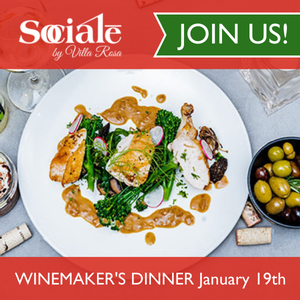 Thursday January 19th, 6:30pm
Celebrate the start of the new year with us at Sociale in Penticton! This is a rare opportunity to spend an intimate evening with winemaker, Keira Lefranc, and the culinary team at Sociale. Seating is limited for this five-course wine and tapas pairing event, so please reserve early and we will see you there!