August 11, 2020 | Erin Korpisto
Save $2 on Pinot Gris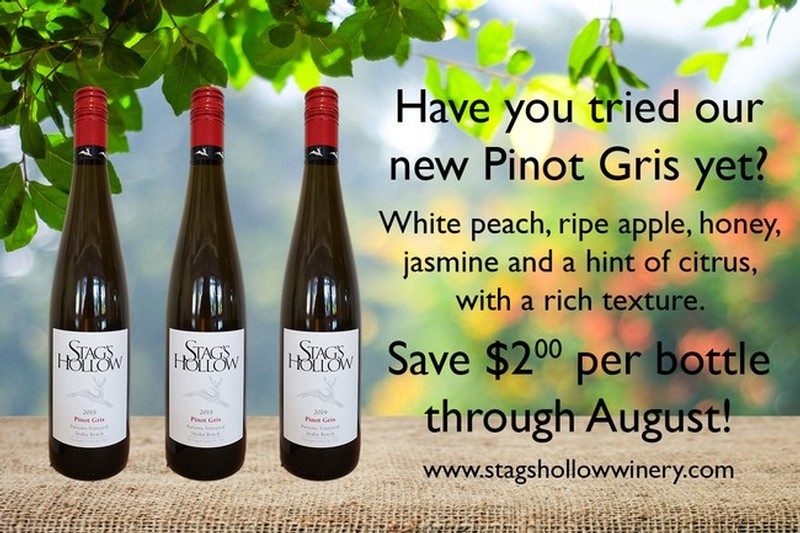 Through the month of August we are offering our 2019 Pinot Gris on sale, at $2 off per bottle. This wine is new for us this year and our winemaker, Keira, is quite proud of it:
Winemaker Notes
"Having never worked with Pinot Gris before, the stylistic possibilities were almost overwhelming. We decided that a rich and textural, off-dry Alsatian style would suit our portfolio well, and would allow us to show off the more premium side of Okanagan Pinot Gris. To afford us as much variety and flexibility as possible when it came time to blend, we decided to divide this block into several picks, and then divide those lots even further into different vessels. While all this may have added extra work, the result has been tremendously exciting."
Wine writer John Schreiner is also a fan, having awarded it 92 points:
"To distinguish it from the ocean of Pinot Gris in the market, winemaker Keira LeFranc decided to make it in what the winery calls "a rich and textural, off-dry Alsatian style." She succeeded brilliantly. The wine begins with appealing aromas of pear, white peach and citrus. The palate is indeed rich, with flavours of pear, apple and honeydew melon. The wine has a lingering finish with a hint of spice."
Comments
Commenting has been turned off.