January 10, 2023 | Erica Mcintosh
DOLCETTO 2018 Decanter Top Red Wines 2022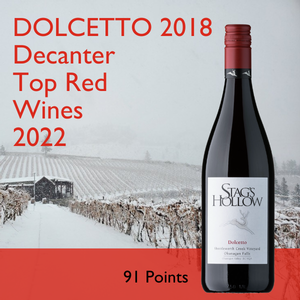 Dolcetto Makes the List!
We are thrilled to announce our 2018 Dolcetto has been chosen for Decanter's Top Red Wines of 2022! With only 3 of the 63 nominations being Canadian, we are honoured to be recognized alongside these world-renowned wineries.
Decanter is the world's leading wine media brand and the oldest wine publication in the UK. The associated Decanter World Wine Awards has established itself as the world's largest and most influential wine competition.
Each year, the Decanter Team and Contributors taste over 30,000 wines from around the world. They each submit their top 3 wines of the year to the tasting event to determine the Decanter Top Wines of the Year. In 2022, our 2018 Dolcetto was submitted by Tina Gellie, Content Editor & Regional Editor for US, Canada, Australia, New Zealand and South Africa, as one of her Top 3 and it was later nominated as one of the Top Red Wines of 2022.
In light of this exciting news, we are pulling a few cases of 2018 Dolcetto from our library. This wine will be available for purchase starting today on our website and at our Wine Shop. Click here to learn more about this special wine.
Comments
Commenting has been turned off.