April 15, 2020 | Awards & Reviews | Stag's Hollow Winery
92 points for Stag's Hollow Renaissance Meritage 2016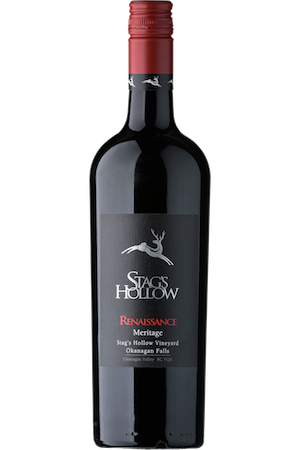 We're excited to have this wine featured on Anthony Gismondi's list of Top 10 BC Reds this week! And rated at 92 points with the follow review...
Stag's Hollow Renaissance Meritage 2016
Okanagan Valley, British Columbia, Canada
Wow, what a treat, and a further confirmation that 2016 is the best vintage we have experienced in the modern BC wine era. Clean, supple, and simply delicious to drink, it has the balance to go the distance, but you can enjoy it now – a rare combination in wine. From dark chocolate to red and black fruits to silky tannins, it's all here but in a tighter package that leans toward complexity rather than pure hedonism. It is already an excellent dinner wine that can take on most major meat dishes or a favourite cheese. The wine finished its ferment in French oak barrels: 40 percent in new 228-litre, thin-staved Bordeaux barrels, and the remainder in 3rd-fill 300-litre hogsheads, ageing in place for 18 months before blending and bottling without fining or filtration. It is 76% merlot, 13% cabernet sauvignon, 11% cabernet franc. Well done.
Comments
Commenting has been turned off.