December 13, 2021 | 12 Wines of Christmas | Stag's Hollow Winery
12 Wines of Christmas...Wine #1 revealed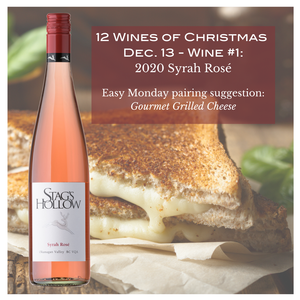 The first wine of our 12 Wines of Christmas is our 2020 Syrah Rosé. It's Monday - so let's keep it easy - pick up your favourite cheeses and bread to make a gourmet grilled cheese to pair with this wine. Enjoy!
This wine is as beautiful to drink as it is to look at. The grapes, grown specifically with this wine in mind, are truly the star of the show here. In the cellar, we wanted to intervene as minimally as possible, and by doing so, we were able to achieve a really harmonious and varietally-expressive rosé.
Our dedicated rosé block was hand-harvested, sorted, destemmed and pressed immediately; minimizing maceration time as much as possible. The pale juice was transferred gently into a stainless steel tank, where it was cold settled for 48 hours, and then racked, warmed and inoculated with a selected yeast strain. The ferment was kept cool (under 13C) in order to maximize aromatic expression, and was racked and chilled upon completion. The wine was then stabilized, filtered and bottled.
Varietals: 100% Syrah
Alcohol: 13.0% alc./vol.
Residual Sugar: 1.9 g/L
Total Acidity: 6.37 g/L
pH: 3.43
Harvest Dates: Oct 9, 2020
Bottling Date: March 2021
Release Date: July 2021
Comments
Commenting has been turned off.