December 21, 2022 | Erica Mcintosh
12 Wines of Christmas WINE #9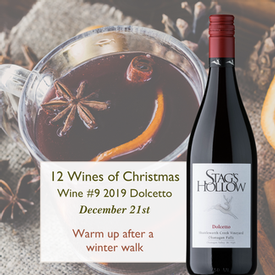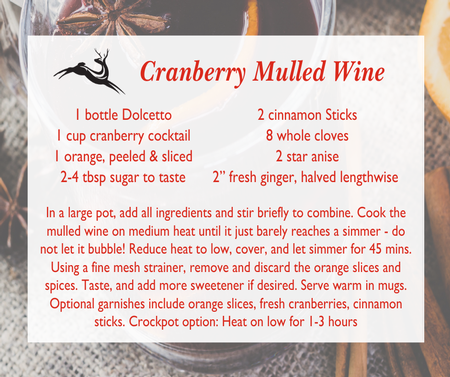 OPEN WINE #9
With the recent extremely cold BC temperatures, it is the perfect time to reveal this next advent wine! Our award-winning 2019 Dolcetto can be enjoyed slightly chilled in the summer, but it is wonderful in the winter as the main ingredient in a mulled wine. Warm up over the holidays with our Dolcetto mulled wine recipe complete with a pouch of mulled wine spices (attached to the bottle, watch for this when you pull it out). This proven recipe is a favourite among our guests at our annual Holiday Cheer event, we hope you will enjoy it too! We also have an entire event dedicated to the Dolcetto grape - join us at FESTA DEL DOLCETTO in July 2023! Stay tuned to our channels for more information.
More on this unique wine:
Dolcetto is a grape that consistently inspires experimentation and excitement, with every new vintage. This Italian varietal was planted in 2012 at our Shuttleworth Creek Vineyard and our first vintage was harvested in 2015. Dolcetto features bright flavours of sour cherries, Italian prune, plums, blueberry pie and bramble mingle with more masculine notes of earth, dried violets, spice and savoury botanicals. With its deliciously soft tannins and vibrantly expressive grape character, Dolcetto is the perfect accompaniment to pizza, charcuterie, pasta, spaghetti & meatballs, and many more Italian-inspired dishes.
Comments
Commenting has been turned off.