December 22, 2022 | Erica Mcintosh
12 Wines of Christmas WINE #10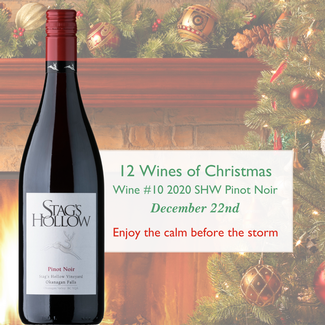 OPEN WINE #10
Today we are happy to reveal the next advent wine is our estate SHW 2020 Pinot Noir: dominated by notes of black cherry, bramble, candied red fruit, plum, warm spice, anise and cola. The palate is balanced by an elegant backbone of acidity that brings a litheness to this structured Pinot. Who doesn't love curling up with a good book in front of the fireplace with the Christmas tree sparkling in the background? By now you should have all of your shopping done, so take the time to sit back, relax, pour a glass and read a book from our curated list of wine-related staff faves (okay, we haven't read them all, but judging by the titles they sound like books we would thoroughly enjoy), you're almost there...

1. WINE FOLLY: MAGNUM EDITION: THE MASTER GUIDE
2. THE WINEMAKER'S WIFE
3. MISTLETOE AND MULLED WINE AT THE CHRISTMAS CAMPERVAN
4. RED, WHITE, AND DRUNK ALL OVER: A WINE SOAKED JOURNEY FROM GRAPE TO GLASS
5. THE WINE LOVER'S BUCKET LIST: 1,000 AMAZING ADVENTURES IN PURSUIT OF WINE
6. THE BILLIONAIRE'S VINEGAR: THE MYSTERY OF THE WORLD'S MOST EXPENSIVE BOTTLE OF WINE
7. THE ESSENTIAL SCRATCH & SNIFF GUIDE TO BECOMING A WINE EXPERT
8. THE SOMMELIER'S ATLAS OF TASTE: A FIELD GUIDE TO THE GREAT WINES OF EUROPE
9. CORK DORK: A WINE-FUELED ADVENTURE AMONG THE OBSESSIVE SOMMELIERS, BIG BOTTLE HUNTERS & ROGUE SCIENTISTS WHO TAUGHT ME TO LIVE FOR TASTE
10. THE OXFORD COMPANION TO WINE
Comments
Commenting has been turned off.