Wine is My Valentine - Red 6 Pack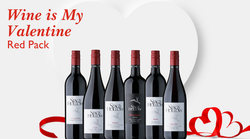 For the red wine lover in your life! This 6-pack contains 1 bottle of the following: 2020 Dolcetto, 2020 Syrah, 2020 Renaissance Merlot, 2020 Merlot, 2020 Heritage Block and 2020 Shuttleworth Creek Pinot Noir.
$15 flat fee shipping to BC, and $15 off shipping for other provinces to the east. Offer ends Feb 12th, 2023.