2022 Tragically Vidal FLAT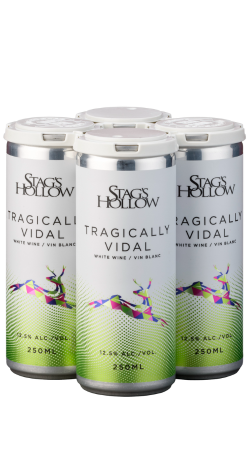 Our Tragically Vidal cans are available for online sales with shipping by the flat only. To order, please contact the winery directly at 877-746-5569.
Wine Specs
Appellation
Okanagan Falls
Harvest Date
November 5 & 8, 2022
Aging
Drink now and through 2025 for freshness and aromatics. Age 5 years and beyond, and it continues to develop beautiful honeyed characteristics.
Bottling Date
March 10, 2023
Wine Profile
Tasting Notes
Tragically Vidal is always an absolute delight on the nose. Perfumed notes of apple blossom and honeysuckle mingle with tropical and orchard fruit; like walking through an Okanagan orchard in the middle of August. The palate is fresh and juicy, with flavours of stone fruit, honeydew melon, lemon-lime citrus, and a satisfying herbaceousness. The finish goes on and on, with the bright acidity and gentle nudge of residual sugar in beautiful harmony.
Vineyard Notes
Parsons Vineyard, Skaha Bench Sub-GI Stag's Hollow Estate Vineyard, Okanagan Falls Sub-GI
Production Notes
The fruit was destemmed and lightly crushed into the press, where the juice was gently pressed off and transferred into tank. After settling for 72 hours, the clarified juice was racked into another stainless steel tank and inoculated with a select yeast culture. It enjoyed a long, slow, cool ferment, preserving as much of the aromatics as possible, before stopping it prior to sugar dryness by chilling the wine to 0°C.
Winemaker Notes
We've found, over the 25 years of working with Vidal, that waiting until just after the first frost to pick seems to be the sweet spot. The grape's tough skins finally soften enough to maximize flavour and aromatic expression, and there is a slight raisining that happens in certain pockets of the vineyard, that contribute to that beautiful honeyed bouquet. Playing into the fun and vibrant nature of this wine, through its cool fermentation, a small amount of CO2 remained dissolved in the wine, giving the aromatics a boost, and the palate a zippy freshness. Available for the first time in cans!
Food Pairing Notes
Classic: pork, chicken, duck, fruit salads, foie gras Adventurous: Cajun/Creole dishes, Thai food, Chinese food, Vietnamese food, Mexican food, coconut curries, Indian food
Other Notes
100% Vidal 200 flats (24 x 250ml cans), cans packaged in 4-packs