International Women's Day Dinner
| | |
| --- | --- |
| Date: | Sun, Mar 8, 2020 |
| Time | 5:00 PM to 9:30 PM |
| Venue: | Liquidity Bistro |
| Contact: | The Paisley Notebook |
| Email: | aman@paisleynotebook.com |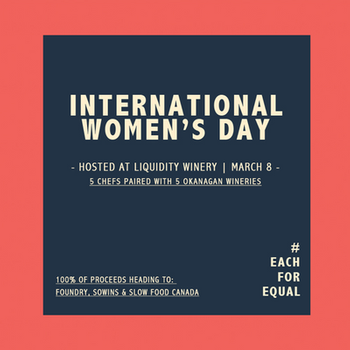 We are excited to be a part of the fourth annual collaborative fundraising dinner to mark International Women's Day on March 8th, by The Paisley Notebook at Liquidity Wines in Okanagan Falls. All profits from the dinner will be donated to Foundry Penticton and Kelowna, South Okanagan Women in Need Society and Slow Food Canada.
This year's celebration will bring together the culinary talents of Andrea Callan (Red Fox Club at Indigenous World Winery, West Kelowna), Aman Dosanj (The Paisley Notebook, Kelowna), Dana Ewart (Penticton), Christine Sandford (Biera, Edmonton) and Kelsey Johnson (Café Linnea, Edmonton). Along with wine pairings generously donated by top winemakers and winery owners from across the Okanagan Valley – Alison Moyes (Liquidity Wines), Christy Bibby (Nighthawk Vineyards), Leslie D'Andrea (Noble Ridge), Severine Pinte (La Stella Winery) and Keira LeFranc (Stag's Hollow Winery). Each Chef will take on a course with the 2019 International Women's Day #EachForEqual theme in mind.
"We are so incredibly grateful to Aman for bringing together talented and passionate chefs and wineries who put on a wonderful evening in celebration of International Women's Day. This event has been held in Kelowna the last three years, all totalled they have raised over $16,000 for mental health initiatives at CMHA Kelowna and Foundry Kelowna. We cannot underestimate what it means for our mental health to have someone to talk to, to share a meal with and to have a safe place to belong. When we feel connected to others we are more likely to take the steps to feel good about ourselves and the community in which we live", says Shelagh Turner, Executive Director, CMHA Kelowna.
Event Details:
Sunday, March 8, 2020, 5 PM to 9.30 PM
Hosted at Liquidity Bistro (4720 Allendale Road, Okanagan Falls, BC, Canada, V0H 1R2)
Tickets cost $165 – price includes 5-course dinner with wine pairings. All profits (after operating costs) will be donated to Foundry Penticton and Kelowna, SOWINS, Slow Food Canada.
This event features a set menu and silent auction
Unfortunately, certain allergies and special dietary needs may not be accommodated, please contact aman@paisleynotebook.com before purchasing tickets
Approximately 50 tickets available. Tickets available on a first-come-first-served basis
Parking is available at the winery