Festa do Albariño 2023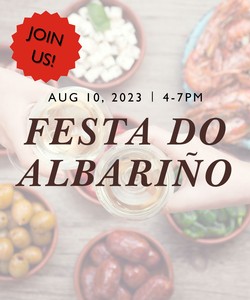 Let's party like we're in Spain! We're celebrating this vibrant Spanish grape and you're invited to join us! Dating back to 1953, the Festa do Albariño is a massive wine festival taking place in Cambados, Galicia over the first week of August each year. Inspired by this cultural event, we're honouring this world-famous wine with Spanish tapas, live music and of course, a grand tasting of our new 2022 Albariño!
Date: Thursday August 10th, 4-7pm
NOTE: RSVP deadline is August 6th. Please arrive at 4pm or after. Limited to 50 guests.