2022 Renaissance Fumé Blanc Futures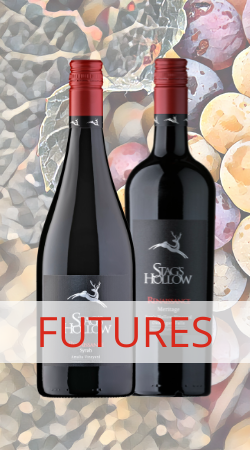 This Futures package is a purchase of 12 bottles, reflecting a 20% discount over what the eventual release price will be (and additional Wine Club discounts do not apply). The wines will not be available for delivery or pick-up until October. We will notify everybody who has purchased Futures once the wines are in bottle and available for pick-up. If you wish to have the wines shipped, we will arrange for shipping with you at that time.
160 6-pack cases produced. The acquisition of a new-to-us vineyard in the Similkameen, planted to Sauvignon Blanc, brought us the opportunity to do something special with our Estate-grown block of Sauvignon Blanc. While our Classic label Sauvignon Blanc is often all about the vibrant aromatics and bright acidity that the grape is so well known for, we decided to take our Stag's Hollow Vineyard Sauvignon Blanc in an entirely different direction. Fully barrel-fermented, and aged on lees for an extended 9 months, this Fumé Blanc style wine is all about texture. Certainly bright and mouth-watering, but oh-so creamy and mineral-driven. We knew from the start that these grapes had something special, and this limited production wine did not disappoint. It will be delicious upon release, but this wine is one that will reward careful cellaring.
More stone fruit than tropical, the nose hints at something with a bit more substance than your every-day Sauvignon Blanc. On the palate, bright citrus notes are balanced by a texture that is neither too creamy, nor too mineral. It strikes the right balance between fruit and acid, with a satisfying structure backed up by just the slightest touch of well-integrated oak. With nothing too showy, nor too delicate, this wine is the picture of balance.