2018 Renaissance Mixed Case Futures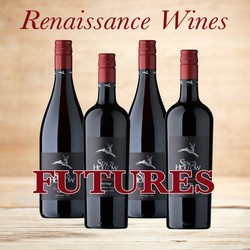 Item Ships: Sep 1, 2020
Wines purchased on a Futures basis are available on a by-the-case basis only, reflecting a 20% discount over what the eventual release price will be (and additional Wine Club discounts do not apply). The wines will not be available for delivery or pick-up until September. We will notify everybody who has purchased Futures once the wines are in bottle and available for pick-up. If you wish to have the wines shipped, we will arrange for shipping with you at that time.
2018 Renaissance Pinot Noir: Medium ruby in colour, the nose is very expressive, showing classic aromas of damp earth, bright red fruit (strawberries & cherries), ripe dark fruit, baking spices with some lifted floral and botanical notes. The palate is plush and full-bodied, showing flavours of cherry and wild strawberry, along with bright pomegranate acidity and a dash of savoury spice. The finish is long, with silky fine-grained tannins and juicy natural acidity, which should ensure a long life ahead.
2018 Renaissance Syrah: Darkest purple nearing black in colour with a brighter purple brim. The nose is expressive showing classic aromas of earth, leather, black pepper, cured meat, dark berries, and the faintest floral lift. The palate is tight but broad showing flavours of black fruit, freshly cracked black pepper, leather, and oak spice. The finish is long and proudly showing multi-layered tannins and natural acidity which should ensure a long life ahead for this wine.
2018 Renaissance Merlot: This wine has a dark ruby core with a brighter ruby rim colour. The nose shows and abundance of of ripe fruit: Italian plums, blackberries, red & dark cherries. While the fruit is certainly the star, these notes are balanced by notes of dried herbs, cocoa, liquorice, leather & toasty French oak. The palate is tight and youthful, yet plush and elegant, and with air exposure, it opens up generously. The finish is long with lingering ripe, dusty tannins and lively acidity.
2018 Renaissance Meritage: The bright fruit and plushness that has become synonymous with our Renaissance Merlot is certainly evident in this special wine, but it's the richly earthy and brooding complexity of this wine that is the star. This estate field blend is full of intense, stewed and fresh dark fruit, dried herbs, forest floor and graphite, with a delicate lift of dried violets. The palate is tight yet elegantly generous, with ripe tannins and juicy acidity that should ensure a long life ahead.